9) Hoehyeon Station (회현역)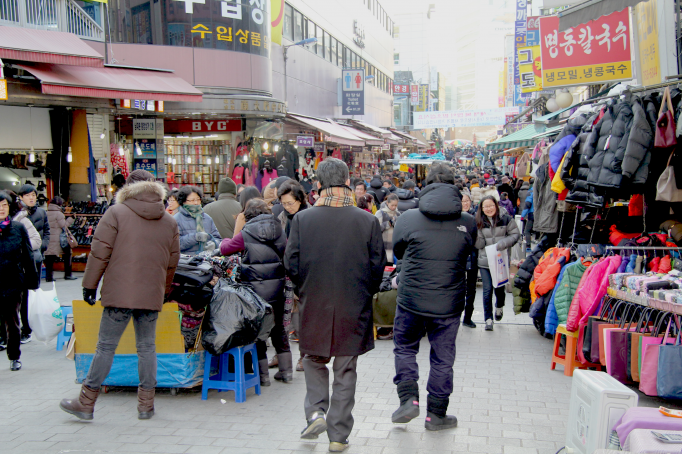 For some of the best street food in the city, head to Namdaemun Market outside of Hoehyeon Station exit 5. Namdaemun is the largest traditional market in the country and you could easily get lost wandering around these tightly packed alleyways. Though there's street food everywhere, wander around long enough and you're sure to find the food alley. These restaurants are typically pretty packed, and for good reason, as this is some of the best Seoul Food (see what I did there?!) in Korea and is sure to please. With the re-opening of Namdaemun Gate (previously the victim of arson) this area has been revitalized and is worth a second visit if you haven't been recently.
10) Seoul Station (서울역)
The massive hub of all things transportation in Seoul and, by default, Korea is a bustling beehive of activity. You can catch a train here to take you anywhere trains go in the entire country and can enjoy a healthy dose of people watching from the upper platforms of Seoul Station itself. You can also check out the old Seoul Station which, though no longer in use, has been lovingly restored and regularly hosts art exhibitions.

11) Samgakji Station (삼각지역)
Those of you looking to learn a little something about the Korean War (and really, shouldn't we all?) should head to Samgakji station. Right outside exit 12 you'll find the massive complex. The grounds have recently been redone so, again, if you haven't been in a while, it's worth a second visit. The War Memorial of Korea also routinely hosts traveling exhibits, like the famous Body Worlds exhibit that was here last fall.
12) Ichon Station (이촌역)
This neighborhood has the slightly misleading nickname of "Little Tokyo." Although Ichon is the home of the vast majority of the Japanese expats in Seoul, there isn't much to make it feel any less like Seoul. The one thing it DOES have, however, are some extremely good Japanese restaurants. These restaurants are also very Japanese in style, most being on the small side and offering a good place to get a quiet meal. Food bloggers maintain that Ichon is the best place in Seoul to get sushi and among the best are restaurants Namu, Mori, Ume, and Kiku. This is also the station on line 4 where you can best access Hanyang Park, so you can walk off some of that sushi or take a food nap!
13) Seoul Racecourse Park Station (경마공원역)
Looking for a cheap way to possibly lose all of your money? Head to Seoul Racecourse Park! Admission to the grounds is only 800 won (that's the cheap part) so, theoretically, if you weren't going to bet, this would be a super cheap and fun day out! There's a foreigner help-desk where you can get an English print-out of the day's racing stats in order to better test your luck. Drinking in the park isn't allowed, but rumor has it that they don't check non-liquor bottle for possible alcohol contamination as you enter the park, but you didn't hear it from us! Good luck!
14) Seoul Grand Park Station (서울대공원)
This is a MASSIVE park complex (the largest in the world!) filled with just about any park-like activity you could desire. There's a huge zoo (10th largest in the world) with really impressive large cat and bear exhibits as well as a large collection of marine mammals. There's also the National Museum of Contemporary Art which features conceptual contemporary art and a large, picturesque sculpture garden. In the spring, check out the botanical flower garden for some breathtaking blooms. If you are dying for a rollercoaster, head over to Seoul Land Amusement Park for a few spins!
15) Ansan Station (안산역)
Ansan has become a massive expat neighborhood, more specifically it is full of people from Southeast Asia, the Middle East, Russia, and Eastern Europe. The "Multicultural Street" (Damunhwa-gil) is completely overflowing with every kind of food from all of these demographics. Dying for Uzbeki? Ansan. Jonesing for an Indonesian café? Ansan. Got the DTs for some Nepalese? Ansan. There are maps posted around the neighborhood to help you locate the exact cuisine you're yearning for. The area is known for it's mouth-watering Vietnamese food and most food bloggers agree that Dieu Hien Quan (outside the main Ansan Station exit, second street on the left) is the best place to get you pho on.
There you have it! Get your TMoney charged up and get ready to fall in love with line 4!