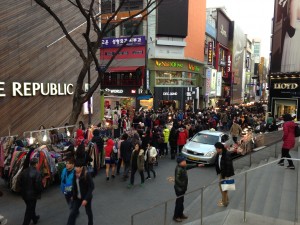 Myeongdong (명동) is one of the most popular downtown areas of Seoul. There's tons of great shopping, fun things to do and some of the best restaurants Seoul has to offer. But since it's a very popular destination for tourists, it's also home to many tourist traps! We've focused all of our knowledge into Insider's Guide to Myeongdong to make sure you're never ripped off and that you get around Myeongdong like a local!
This 16-page printable e-book includes:
– Locations for getting free wifi for those moments you really need to get online.
– Our map filled with the most essential information so you're never lost when looking for our…
– Insider recommendations for our favorite shopping, things to do, and restaurants (including those secret alleyway restaurants that have made Myeongdong so famous).
– Pictures of the actual stores (we put them there so you can find the stores easily ;)).
– Sensitive information on the perfect time to go so you're not there when everything is closed.
– Our secret insider tips, which will make sure you save money, get free things and never get ripped off!
– Directions for other tourist attractions nearby, all within 15 minutes, so you can head over to your next destination with ease.
Myeongdong can be confusing (even for many Koreans!). But simply print this ebook or load it onto your smartphone or tablet, and you'll be walking around Myeongdong like a Seoul insider!
Here's a preview of some of the information that's included in this book.