South Korea is a relatively small country that's generally pretty safe. And that safety also extends out to wilderness! You won't have much reason to fear hiking in the mountains and swimming in the oceans as dangerous animals don't inhabit Korea anymore. With that said, there's still a few that can kill human beings, namely you! Make sure you know what they are.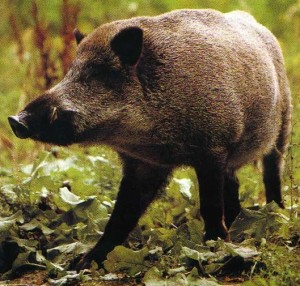 1. Wild Boars (멧돼지)
Hardcore vegetarian PETA types might crack a smile when they find out that wild boars get some revenge for all that samgyupsal eaten across the peninsula. Wild boars roam the mountain sides (especially in Jeju) and have been coming down to the city centers in recent years in search of food. And anytime an animal that's as big, strong and fast as these wild swine come into contact with humans, it can have fatal results. In Korea, death by boar is not unheard of and there are usually a few reported cases every year. And unsurprisingly, these attacks are found more often in the cities than you might think. Samgyupsal eaters, your karma awaits!
2. Asian Giant Hornets (말벌)
If you've ever watched that video clip of a gang of angry Asian Hornets destroying an entire army of bumble bees, you know how unbelievably gangster they are. Too bad these bad boys also live in Korea. They usually live in big trees, which are often pretty close to grave sites which need weeding and trimming (Korean custom for visiting gravesite). When people get too close to the the hornet's den, they're attacked. And every year (particularly around Chuseok), these hornets kick some human ass.
3. Poisonous Snakes (독사)
Surprisingly, Korea is also home to a couple of poisonous snakes, including amur viper and ussuri mamushi. These slithering serpents are usually found deep in the mountains, along streams or in forests, usually coiled among rocks. They aren't the most common animals to see in Korea, but if you do come across one, protect the children! The poisonous snakes found in Korea usually don't have poison to kill a fully grown human, but it does have enough to kill small children. Don't worry though, these snakes will give you plenty of warning with all that hissing that resembles mothers-in-law around the world :).
4. Jellyfish (해파리)
Jellyfish are a nuisance to beach goers around the world, and Korea is no different. In recent years, however, jellyfish blooms have become a problem for Korean coastlines, which has also resulted in the number of reported jellyfish stings. Last year there were 2,000+ jellyfish stings reported, while also an 8-year old girl was killed from a jellyfish sting. But Korean nerdiness is fighting back. Just last month, Korean researchers developed jellyfish destroying robots, which is designed to do exactly what you think it's designed to do. And it is works! Korean nerds FTW!
Korea used to be a bit a lot more dangerous with tigers, bears, leopards and wolves. And death by wilderness was much more common than it is in modern day. But if you're planning on seeing the nature of Korea, just know you should look out for these.
What animals can kill humans in your country?