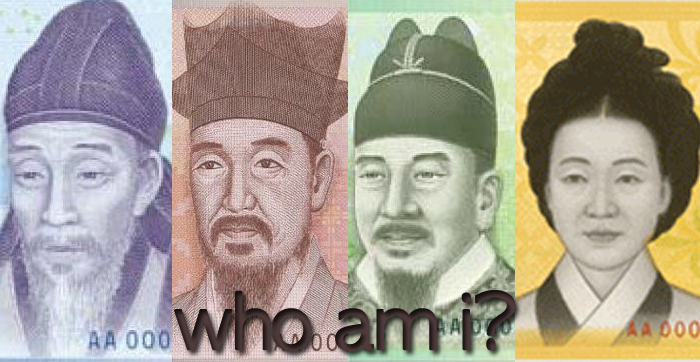 [Note: This is a repost in response to a reader's question about who is on Korean money.]
If you're in Korea, of course you'll have to deal with South Korean won. You'll use money pretty much every day you're in Korea, and that means you'll be seeing these faces everyday too. If you're going to see someone everyday, you should at least get to know their names! Find out why these people are some of the most awesome people in Korean history!
50,000 won (bank note)
Shin Saimdang (신사임당)
(1504-1551)
The most recent addition to the Korean won banknotes is the only sexy lady to be on any South Korean bank note (just kidding, she wasn't that sexy). Shin Saimdang was a calligraphist, poet, writer, artist among other awesome Korean things. But what she's really known for is simply being a "good wife and wise mother." No, seriously. She did all that awesome stuff that most women could only dream of doing, but back in the 1500's, it was more important to be just that. Good thing she was good at that too because she mothered Yulgok, one of Korea's greatest scholars and also the face of the 5,000 won South Korean bank note (see below). So if we go by blood that kindaaa means she's on one and a half Korean bank notes. Yay for Korean moms!
10,000 won (bank note)
King Sejong the Great (세종대왕 – Sejongdaewang)
(1397-1450)
If you don't know this man, you will once you come to Korea. Everyone and everyone knows King Sejong the Great, probably one of Korea's most famous people ever. He's the type of leader that comes only once in many millennia, and Koreans are immensely proud of him. Here's why: before him Koreans used Chinese characters to write Korean (awkward! try doing that with English!). But this great man came along and became most famous for leading the effort for the creation of a brand new writing system, Hangeul. Hold on. Maybe you didn't get that. Try reading that again… the creation of a writing system (crazy, yo!). He makes us all look like talentless nobodies! But now because of him even the most casual travelers to Korea can learn to read Korean on a 4 hour flight to Korea (really). If you're studying Chinese, you're mega jealous!
5,000 won (bank note)
Yi I (이이), aka Yulgok (율곡)
(1536-1584)
The son of 50,000 won mommy Shin Saimdang, this man was probably much much smarter than you. By 3 he was reading, by 7 he was done with his Confucian classics lessons, by 13 he passed the Civil Service literary exam, and by 16 he decided to devote himself to the study of Buddhism by moving to the mountains. Smart guy, huh? More than his political contributions and multiple works as an author, he is most famous for his Neo-Confucian teachings, stuff that most of us just can't even begin to understand. He was also a kind of a Nostradamus of his time as he suggested that Korea should build up its military, warning that the Japanese were going to come soon.When the Japanese finally did come for a fight in the Imjin War, the boys at the royal court were probably all thinking, "damn, should have listened to the really smart dude :(."
1,000 won (bank note)
Yi Hwang (이황), aka Toegye (퇴계)
(1501-1570)
There's two really famous guys for being smart in Korean history. Yulgok (5,000 won guy) was one, and his teacher Toegye is the other famous Korean child prodigy and really, really smart guy. He learned the Analects of Confucius at age 12, an age when most of us can barely finish Harry Potter. And by 18, just about when most people finish high school, he had already written one of his major poems. Just like Yulgok, he held many different positions in the government, and he even had a really cool job called secret royal inspector (unclear whether the doo-rag was part of the uniform). But he was also famous for his super intellectual Neo-Confucian teachings, just like Yulgok. And although Toegye taught Yulgok, they were actually philosophical rivals of sorts. Too bad there wasn't any kind of backstabbing so his story could be turned into a historical Korean drama.
100 Won (coin)
Admiral Yi Sun-shin (이순신)
(1545-1598)
If you've ever been to Gwanghwamun (a famous tourist attraction in Seoul), there's this ultra awesome statue of a guy with a big ol' whooping stick. That's Admiral Yi Sun-Shin, one of Korea's most legendary badasses. He fought off Japanese invaders during the Imjin War that Yulgok (5,000 won guy) warned about. And he did it with these uber cool ships called Turtle ships, complete with a spikey shell and smoke breathing dragon head. (The ship is also on the 5 won coin). What makes Admiral Yi the stuff of legends are the battles he fought (he also had Hollywood-worthy quotes). His most "don't mess with this guy" moment was the Battle of Myeongnyang, when he defeated 333 ships with only 13 of his own. While he was fighting, we're pretty sure he screamed out "This is Sparta Korea!"
Other Coins
1 won coin – Rose of sharon (무궁화) – The national flower of South Korea.
5 won coin – Turtle ship (거북선) – Used in naval battles (see 100 won coin)
10 won coin – Dabotap Pagoda (다보탑) – Pagoda located at Bulguksa Temple
50 won coin – A stalk of rice
500 won coin – Red crowned crane (두루미) – Crane found in Korea
---
Note: Much of the information from this post has been obtained from Wikipedia and from Boram Yoo (thanks!).