Korean street food is part of the adventure when traveling in Korea. But some people are like two year old children — they'll just put anything in their mouths. If you're a little more concerned about what's going on in your mouth, check out this complete guide to Korean street food!
Note: We plan to upgrade this post as we fill in a few missing street foods as they come to us. If you feel we've missed any street foods, please leave a comment and we'll be sure to add it to our list for a future update!
Most Common Korean Street Foods
These Korean street foods are found in every neighborhood and at all times of day. Find a street food stall in Korea, and chances are, they'll be serving these. They're so popular that some people take the "street" out of street food and serve these at restaurants.
Tteokbokki (떡볶이 – spicy rice cakes) – Rice cakes in a spicy red pepper paste sauce. And the bright red color should be warning enough of how spicy it can be (depending on where you go). Don't be intimidated if you only see junior high school girls giggling over rice cakes. Head over there and get some yourself. It's equally loved by both kids and adults.
If you're looking for popular places to eat tteokbokki, check out our list of 7 famous tteokbokki places in Seoul!
Variation: Old-style Tteokbokki (옛날떡볶이) – Instead of a spicy sauce, the rice cakes are stir fried in a wok with some oil and then topped with red pepper flakes. The most famous is made by a Korean grandmother that's over 100 years old. Find her in our list of 15 Markets to Visit in Seoul.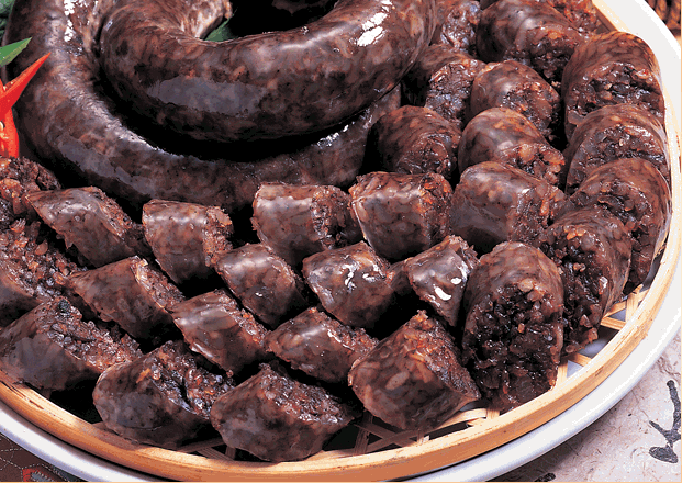 Sundae (순대 – blood sausage) – Blood sausages are common foods around the world. Korea's version of it uses coagulated pigs blood, glass noodles and barley, with pig or cow intestines for the sausage skin. Also, if you're ordering on the street, each order usually comes with a few slices of liver or lung on the side. Some of you are grossed out by this. Don't worry, some Koreans are too.
Variation: Stir fried blood sausages (순대볶음) – Take all that stuff and stir fry it with veggies and a red pepper paste, and you have yourself another popular street food that's meant for drinking. Have a bottle of soju while snacking on this. Eat and drink alone for super dramatic effect! 😉
Note: Seoul has a whole town dedicated to the art of cooking sundae!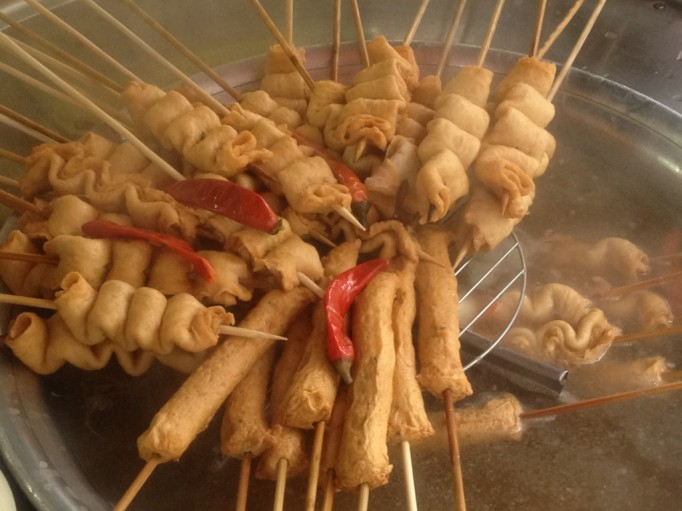 Odeng (오뎅 – fish cakes) – At about 500 won a stick, fish cakes are the cheapest street foods you'll find. They're skewered on a stick and left in a delicious broth, which happens to be free with any order (not just odeng) and can cures bad hang overs. Put on some soy sauce to enjoy.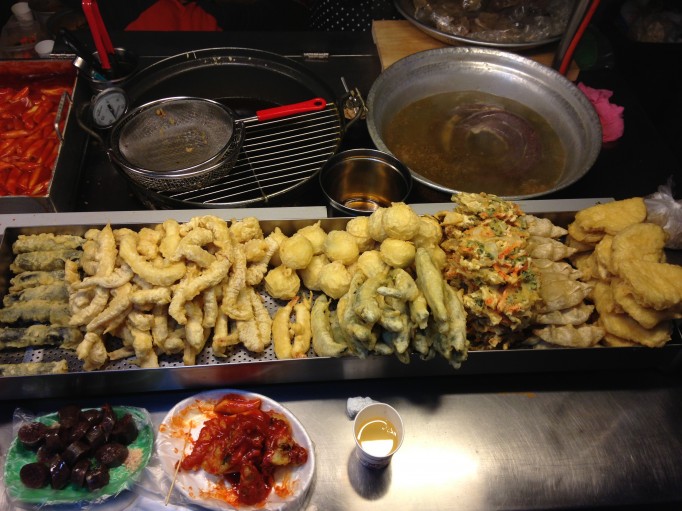 Fried Snacks (튀김 – twigim) – The same carts that sell you tteokbokki, blood sausages and odeng also have delicious fried goods. These fried foods are dipped in a batter to allow for a flakey shell. Ingredients range from dumplings, eggs, peppers, sweet potatoes, and more.
All the above common Korean street foods are usually sold in the same tents. So it's a one-tent eat all type of deal. If you're not sure how to order these, find out in our Beginner's Guide to Korean Street Food!
See next page for traditional Korean street foods!