14.) Bukhansan National Park
"A National park in Korea"
Mt. Bukhansan is located in the northern part of Seoul. If you and your date want to take a peek into heaven, you can take 3 hours of your time to get to the very top of Mt Bukhan. It is very well worth it. Once at the top, you can see a 360 degree panorama view of Seoul. Once finished climbing this absolutely beautiful mountain, you and your date's legs will for sure remember it for days to come. Your hearts, forever.
Location: Gireum Station (Subway Line 4), Exit 3.
Take Bus 110B or 143, and get off at the last bus stop.
(Many entrances, this is just one :))
15.) Namsan Tower  
"Fall in love at Namsan Tower"
This is the spot where many people fall in love for the first time in Korea. Whether it is day or night, you feel the magic when you are at Namsan Tower. This is one of the highest points in Seoul with one of the best views of the city. Also, make sure you participate in one of popular Namsan Tower traditions for love birds. Bring a pair of small locks with your names or a personal message on it and secure them on the fence at Namsan Tower. Yay for romance Seoul style!
Location: Subway line 4, Myeongdong station, exit 3, take the street on the right of Pacific Hotel and walk for 10 minutes.


16.) Namiseom (Nami Island)
"Oasis of Tranquility"
One of the best things about the city of Seoul is that there are many places nearby that allows visitors and couples to escape the city and explore the elegant side of Korea. The tree path of Nami Island was made famous by the Korean drama, "Winter Sonata." And for this reason alone, couples go to the island to reenact the romantic scenes. It's a great place for couples who want to experience to the more natural side without wanting to leave too far from the city but also be able to take a break from the city life.
Location: From Gapyeong Bus Terminal or Gapyeong Station, take a taxi to Namiseom parking lot. (Travel time: 10-15min)
Take the ferry from Namiseom Dock to Namiseom Island. (Travel time: 5-6min)
17.) Oido
"A quiet getaway"
Another great peaceful escape from the busy city of Seoul is Oido. It is about one hour away from Sadang Station on Line #4 (the light blue line), and it is a great way to spend a Saturday afternoon with your loved one. Oido is a great place for a walk along the sea and also to get a good view towards the city of Ansan from a distance. If you come early, you can go to the top of the lighthouse, visit the various seafood markets that Oido has, and walk down to the muddy beaches before enjoying a fresh seafood lunch or dinner.
Location: Oido station, last stop on line #4 (light blue line)
18.) Daemyung Ski-Resort
"Ski away!"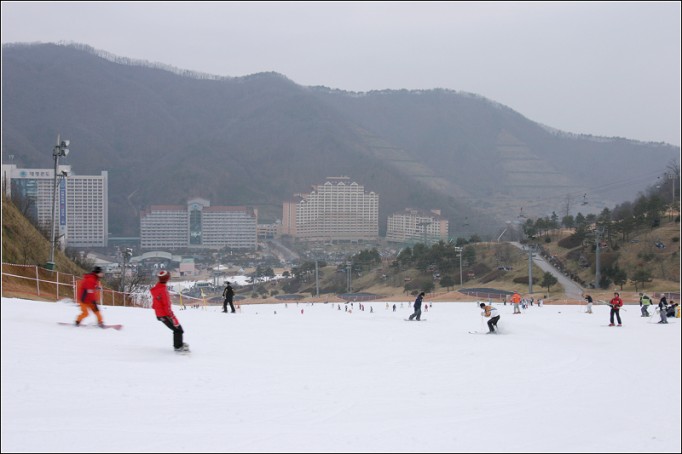 Daemyung Ski Resort is a very popular place for skiing and snowboarding. It is a great place for one day trips with loved ones because the place is so close to Seoul. The resort has 13 slopes, all named after music genres! For example, a slope named, "Blues," is the shortest for the beginners, then with "Classic," somewhere along the middle for the intermediate, and "Rock," which is the steepest for advanced skiers. Daemyung Resort went through major renovations and slope remodeling since they opened, so no worries on bad slopes or anything. The resort is also known for their excellent facilities (the spa is one example, and is a great place for the ladies ;)) so if you get tired of skiing or snowboarding, there are a lot of other things to do.
Location: Gangbyeon Station(Seoul Subway Lien 2), Exit 3 or 4.
Walk towards Dong-Seoul Bus Terminal.
19.) Seokcheon Lake
"A great place to go for a stroll"
Seokchon Lake is literally a free open gym for you exercise lovers. This place is suitable for jogging or other open sports activities such as badminton! Seokchon Lake Park is a favorite place for couples. The variety of trees and plants in Seokchon Lake Park make it a stunning and elegant place to admire the changing seasons, especially during the spring time when cherry blossoms are blooming. Lotte World, an amusement park, is located just west of the park. Also, there are some nice cafes along the side of the walking areas 🙂
Location: Jamsil Station (Seoul Subway Line 2), Exit 2 or 3.
Go straight 200m to arrive at the entrance of Songpa Naru Park.
20.) Dongjak Bridge Cafe

"A unique cafe located on the Han River"
Not many people know about this cafe. That's because it's located on an actual bridge! "Cloud Cafe" and "Red Sky Cafe" are located at Dongjak Bridge. Both cafes are located below an observation deck which is on 6th floor and draws attention as a comfortable resting place with cool jazzy lights from the ceiling (see picture). Both of these cafes offer not just coffee but great cuisine and refreshing beverages as well. The best time to come to these cafes is when the sun is about to set. It offers beautiful scenery of the Han River, and at night, the place just glows with magic.
Tip: If you order anything from this cafe, you can receive a 20% discount on water-taxis. Bet you never knew the Han River had water-taxis!
21.) Nagwon Sangga (낙원상가)
"Show off your music skills here"
There's literally a specialty market for everything in Seoul. For example, for clothes, you go to the Dongdaemun market. Well, for music, there is the famous Nagwon Market, which has over 200 specialty stores in selling instruments. To get to the Nagwon Sangga, you have to walk up one of the many exterior staircases. Once you're inside, you're submerged by the wall-to-wall musical instruments. Everything you could want from modern musical instruments, all crammed in here, some of it stacked up and some of it on display waiting for someone to try it out. This place has been featured on TV but is not very well advertised as a date spot; but it's a great spot to have some fun and try out musical instruments. You can bring your date here and show off your musical skills! 🙂
Location: 2 F Nakwon Sangga, 284-6 Nakwon-Dong, Jongno-gu
22.) Seoul Art Cinema
"Best place for international, classic, and independent films"
Forget the mega ultra huge screens, take some time to enjoy the classics of cinema. The Seoul Cinema is one of Korea's greatest cultural resources in a country where pop-cinema has a virtual monopoly on public screens. The Seoul Art cinema has screened over 4000 films from 40 different countries!!! This is seriously a MUST GO place for dates. It's extremely romantic just because of the location itself. It's situated in the heart of the most cultural district area of Korea – Jongno. Most of the films are in English and you should have a wide variety of films to select from.
Location: Insadong. Near exit 5 of Chongno-sam (3)-ga subway station – Line 1, 3, and 5. Go out of exit 5 and go under the overpass and you should see film posters on your left. The theater is on the fourth floor.
23.) Once in a Blue Moon Jazz Club
"Jazz at its best"
Sometimes in life, we got to improvise with our dates a bit. Loosen yourself up and bring your date on over to the "Once in a Blue Moon" jazz club. It is considered one of the best Jazz clubs in Korea and is located in the heart of Apgujeong (official address is in Cheongdam, one of the richest neighborhood districts in Korea). It is a great place for those with cravings for Jazz in a great lounge like atmosphere. Once in a Blue Moon is divided into three floors — the 1st floor for enjoying the performance in ultra high definition, the 2nd floor is more for bigger groups or even your dates while enjoying the music, and the 3rd floor for private parties and the VIP crowd who like to party with good music as their background. This is the perfect place where you can feel like you are in Chicago or New Orleans (known for their jazz scene). The prices are on the higher side, but for jazz and a happy date, no problem right?
Location: Apgujeong Station (Subway Line 3), Exit 2.
Walk towards Galleria Department Store, and turn right onto Seonneung-ro Street.
Go 200m forward to arrive at Once In A Bluemoon on the left.
24.) Jeongja Dong Cafe Street

"Cafe heaven"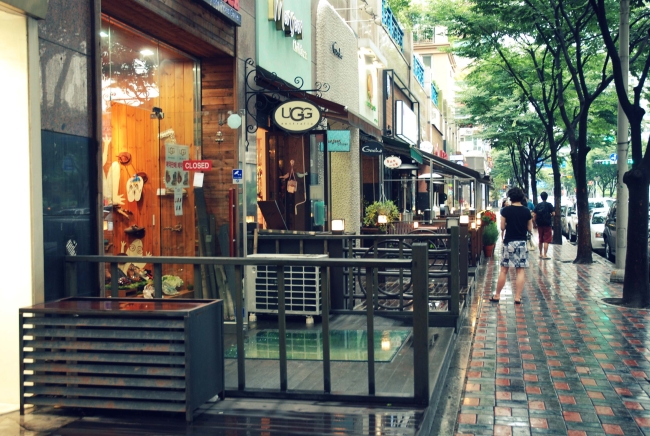 Jeongja-dong Café Street is a very famous cafe spot in Korea. And although this place is located in Bundang, a Seoul suburb, its chic atmosphere resembles Gangnam of Seoul (Oppan Jeongja Style!). The cafe street is lined with charming cafes with terraces and many little bakeries. The wide array of cafes along the street offers many delicious foods with a definite European like atmosphere. Although this place is reminiscent of street cafes in Europe, Jeongja-dong cafe street has become a popular place among visitors who enjoy reading or just enjoy going to cafes. Excellent spot to go for a date.
Location: Jeongja Station, Seoul Subway Bundang line, Exit #4.  3min from the station
25.) Namhansanseong Fortress
"The Great Wall of Korea"
Last on our list is Namhansanseong Fortress. You can think of this place as the Great Wall of Korea. This place is just absolutely stunning and it is a place where you can get in touch with nature. Namhansanseong is beautiful in any season as it is located on a pleasant hilly destination for anyone that wants a not too difficult jaunt around an area with a lot of history. The whole place will make you appreciate Korea with your loved one even more. It was originally built during the time of the three kingdoms and the area was a strategic location as it is surrounded by mountains on all sides. History can be romantic too!
Location: Get off at Sanseong Station, Line 8, and take Bus #9 to the last stop. From there, walk to Gukcheongsa Temple—the gate is just behind the temple.
Enjoy everyone – we hope you enjoyed the list as much as we did. If you have any more suggestions, please let us know by leaving a comment below. Also, do you have a favorite from the list? 🙂