10. Owl Arts and Crafts Museum
Seoul, Jongno
Owls don't have any special significance to traditional Korean lore, nor are they a unique and special animal beloved by Koreans. But here we are on a Korea travel website, exploring unique museums in Korea, with a museum dedicated to Owl Arts and Crafts. Go figure. It's one of the most unique museums you'll find in Korea, and it's a tiny space jam packed with over 2,000 pieces of owl themed arts and crafts. The area is filled with many smaller museums, so even if you don't plan on coming here just for the owls, stop-by while wandering one of Seoul's museum streets.
Address: Seoul, Jongno-gu Samcheong-dong 27-21 | 서울 종로구 삼청동 27-21 (Click for Google Map)
Closest Subway Station: Anguk Station (Line 3)
Admission: 5,000 won
Operating Hours: 10AM to 7PM (Closed Mondays)
Official Website: http://www.owlmuseum.co.kr/ (Korean only)
11. Kimchi Museum
Seoul, Gangnam
Anyone even a little familiar with Korea has undoubtedly come across kimchi, Korea's national dish. It's omnipresent in Korea and any Korean meal without it is simply incomplete. If you're planning on living here for an extended period of time, you'd better get used to kimchi. And with such an important place in Korea's food narrative, it's only fitting that we dedicate an entire shrine to the king of Korean cuisine. This smaller museum in downtown Seoul gives a quick historical overview, outlines how kimchi is made, and also provides free sample tasting. Also, this unique museum in Seoul made our list of 10 Things You Can Do ONLY in Korea.
Note: Currently most of COEX Mall is under renovation. The complex is set to reopen Spring 2014.
Address: COEX Mall, Seoul (Click for Google Map)
How to get there: Samseong Station (Line 2)
Admission: Adults – 3,000 won | Ages 8-19 – 2,000 won | Ages 7 and under – 1,000 won
Operating Hours: 10AM to 6PM (Last entry 5:30PM)
Official Website: http://www.kimchimuseum.co.kr/foreigner/english/intro.asp
12. O'Sulloc Tea Museum
Jeju Island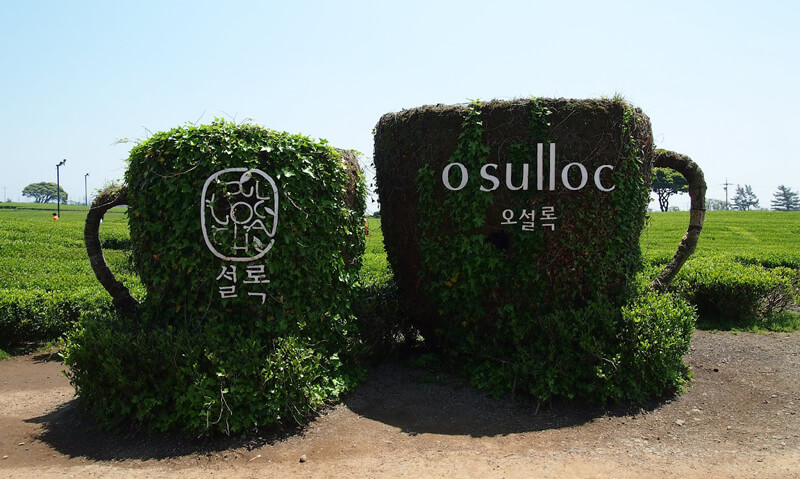 Korea is often considered a coffee lover's paradise, with cafes galore on nearly every city block. But Korea's still got to stick to its asian roots, and that means old school green tea. Jeju Island is home to one of Korea's  most famous green tea retail chain cafes, O'Sulloc. But not only do they sell delicious green tea drinks, they also disseminate the history and culture of green tea in Korea. And similar to Suwon's Toilet Museum and Park, the O'Sulloc Tea Museum is in the shape of a tea cup. Come here to learn about tea culture, tea cups, types of teas, tea art and probably more tea-related things you've never even thought about. Oh yea, and drink green tea 🙂
Address: Jeju-do, Seogwipo-si Andeokmyeon Seokwangri 1235-3 | 제주특별자치도 서귀포시 안덕면 서광리 1235-3 (Click here for Google Maps)
How to Get There: Taxi from Jeju Airport is approximately 40 minutes
Admission: Free
Operating Hours: 8:30AM to 7PM (Summer) | 9AM to 6PM (Winter)
Official Website: http://www.osulloc.com/mainF.do (Korean)

13. Rice Cake Museum (떡박물관)
Seoul, Jongno
If you're familiar at all with Korean street food, you've undoubtedly come across tteokbokki, the popular rice cake street snack for young giggly school girls and middle-aged businessmen alike. But look a long way back and you'll see that rice cakes hold a very special place in Korean food and tradition. Tteok (rice cakes) is a part of nearly all Korean traditions and play an important role on New Years (Seollal), birthdays and the harvest festival (Chuseok). And because of this, rice cakes are enshrined in a unique museum in Seoul, the Rice Cake Museum (떡 박물관). In addition to exhibiting the long and important history of tteok, it also introduces kitchen and cookware of antiquity. But for those that like more interactive museums, this museum also offers cooking lessons for tteok as well as other traditional Korean foods (ranging from 50,000 won to 70,000 won). And for those that are a bit on the lazier side, head over to the rice cake cafe for some eats.
After visiting the museum, eat these Best Spicy Rice Cakes (Tteokbokki) in Seoul!
Address: Seoul, Jongno-gu Waryong-dong 164-2 | 서울특별시 종로구 와룡동 164-2 (Click for Google Map)
How to get there: Jongno 3-ga Station (Line 3, Line 5), Exit 7
Admission: 3,000 won
Operating Hours: 10AM to 5PM (12PM – 5PM on Sundays)
Official Website: http://www.kfr.or.kr/eng/index.htm