11. SPAO – Spao is a Korean brand that's very popular with the young generation. It's also cool because Spao works on star marketing in collaboration with SM Entertainment (Kpop and Korean fashion collab ftw!) and offers product lines co-produced with top-notch designer, Chang Kwang Hyo.
→ Style: Casual wear ("Korean Gap" anyone?)
→ Celebrity Model: One of the most notable: Super Junior.
→ Official Site: http://www.SPAO.com
Google Map: SPAO, Myeongdong
12. Maypole – Active and outdoorsy people will love Maypole; rugged rugby shirts, campus sweaters, warm flannel dress shirts, military jackets and down vests are some of the classic items you'll find at this store. And they make sure you're not dressed like a lumberjack. It's casual and colorful enough for us regular folk 😉
→ Style: Casual and colorful clothing
→ Celebrity Model: Shinee
→ Official Site: http://www.maypole.co.kr/
Google Map: Times Square, Basement 2nd floor (no Myeongdong)
13. BangBang – Endorsed by the lovely Ha Ji Won and Kwon Sang Woo, BangBang is a casual line of clothing. They are basically trying to keep up with what most teens are wearing lately in Korea. Most prices are reasonable. BangBang Lady is more feminine and pretty but a little more expensive if not on sale.
→ Style: Simple, casual, and up-to-date fashion with whatever is HOT 😀
→ Celebrity Model: Ha Ji Won, Lee Min Ho, Kwon Sang Woo
→ Official Site: http://www.bangbang.co.kr/
Google Map: BangBang, Dongdaemun
14. TopTen10 – TopTen10, comes out with Top 10 must have items every season. And of course these are all probably all their own clothes. But that's ok. They have tons of classic items to choose from. We're sure they have something for everyone with their basics, unique graphic tees, or minimalist plus lines.
→ Style: From your traditional basics (v-necks, simple round t-shirts), Graphic Ts, Plus line (simple cardigans and dresses). Similar to H&M.
→ Celebrity Model: N/A
→ Official Site: http://www.topten10.co.kr/
Google Map: Myeongdong, (Chunghee Building 1/2Floor)
15. Thursday Island – Thursday Island is named after a tiny island off the coast of Australia. Maybe they just picked the name because it's cool, because this definitely aiin't no surfer shop. This Korean fashion brand is designed for the vintage urban hippy that likes to be comfortable. We think you'll like this if you like riding vintage bikes, wearing thick frame glasses and wearing moccasins 😉
→ Style: Urban Vintage, Hippy, Comfort, somewhat sophisticated rawness (bold) – all balanced with variety.
→ Celebrity Model: N/A
→ Official Site: http://www.thursdayisland.com/
Google Map: Myeongdong, Lotte Department Store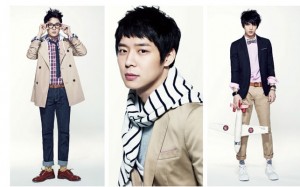 16. NII – NII's target demographics are 18-24 year old Korean cuties, but even if you're not in that age group (or a Korean cutie), you can still rock their gear if you're into basic and simple clothes with cute graphics and vivid colors. Buy something for that uncle who's having a midlife crisis 🙂
→ Style: Sporty cute, traditional "Baseball player" look, Basic & Simple "Dandy"
→ Celebrity Model: Dong Bang Shin Ki (DBSK 동방신기)
→ Official Site: http://www.nii.co.kr/
Google Map: Myeongdong, Lotte Department Store (Young Plaza)
17. Buckaroo (Jeans) – Ok, so their website says that they're original casual denim jeans are "retro-modernism… based on the dichotomy of modern new and friendly old reminiscent of New York Jeans of the 50s and 60s." Uhmm… We just think it's a cool denim company that has cool jeans. Oh yea they have cool jackets too. Dunno about all that dichotomy stuff. 😛
→ Style: MOSTLY denim, pure vintage – similar to Levis
→ Celebrity Model: Kim Woobin (김우빈)
→ Official Site: http://www.buckaroo.co.kr/
Google Map: Myeongdong
18. Solb – Sexy Korean underwear? Sweet! Our one and only Korean underwear brand on this list has all your basic undergarment needs: bras, panties, boxers, nightgowns and all. But what's really fun about Solb is that they have the very Korean-esque couple underwear. Now you go matchy matchy with your significant other on the inside as well as on the outside!
→ Style: Lingerie, Sexy, undergarments (both men & women)
→ Celebrity Model: Yoo Jihyun (유지현), Koh Junhui (고준희)
→ Official Site: http://www.solb.co.kr
Google Map: Myeongdong
19. Googims – Doesn't Googims sound quirky and fun? Well their brand is definitely well suited to the designs they put out. This Korean brand uses bright colors and fun designs and characters to make great clothes. However, they might be better known for their bags, hats and other accessories. Also, favorite of Kpop fangirls around the world, Jay Park, is one of their models (*cue fangirl screams*)
→ Style: Back to school feeling, cute & simple designs and characters.
→ Celebrity Model: Jay Park (박재범)
→ Official Site: http://www.googimsmall.com/
Google Map: Myeongdong, Lotte Department Store (Young Plaza) – 2nd floor
20. Sakun – The Korean underground youth subculture also needs to get their clothes from somewhere. And Sakun is probably one of the biggest providers. The designers at this quirky Korean fashion company are not only fashion designers, they're also real artists. These are totally unique designs that might just get you in with the Korean underground incrowd 😉
→ Style: Quirky characters and graffiti art on clothing (scribbled art from the creator's notebook!).
→ Celebrity Model: Big Bang member T.O.P & a bunch of celebs wearing their gear!
→ Official Site: http://sakun.co.kr
Google Map: Ewha Women's University, A-LAND (Sorry, no Myeongdong)