If you're returning home from Korea, you will want to bring some cool Korean things. And you don't want to wonder on your last day what gift to buy in Korea. Don't wonder what to buy and just read this post! We have 20 awesome awesome gifts to buy in Korea!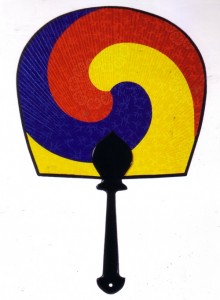 1. Dojang (도장)
– These personalized stamps were and are still used throughout Korea to sign contracts and bank account books. It's basically your signature in stamp format. Sure you can get these in other countries, but if you're buying gifts from Korea, customize these with their names in Korean! Inexpensive and customized stamps are great gifts. These great gifts can be bought  in small little stamp shops everywhere in Korea (we suggest asking your hotel or friends to help you).
2. Buchae (부채) – A handheld fan that folds up is a totally cool gift to buy in Korea. You also have the option of buying a very Korean style fan with colorful swirls. Best part it's a totally practical and very portable gift that will have your friends say "spanks!" You can easily find these at Insadong.
3. Socks – The reason why socks are great gifts to buy in Korea is because they're cheap, plentiful and unique. There's Korea-specific designs such as Kpop and Kdrama socks. But there's also really random and very cute designs (i.e. Obama socks, cute characters, etc.). Find these everywhere in Korea, especially at Myeongdong, Namedaemun Market, and many other tourist hotspots.


4. Kpop Stuff – This one is pretty obvious, but we just want to let you know that these are mostly directed at tourists (who cares?!) and can easily be bought at Myeongdong (check out this helpful post) and Namdaemun Market.
5. Phone Cases – Pretty much everyone in Korea has a smart phone, and that's why Korea has a very big phone case industry. There's tons of unique designs with all different types of functions that might be hard to find in your country back home. If you're wondering where to buy these, there are stores and street vendors pretty much everywhere in Seoul solely dedicated to selling phone cases. These are everywhere where there are many people (i.e. Myeongdong, Itaewon, Hongdae, Gangnam, etc.).
6. Korean Pillows
– For those used to big ol' fluffy pillows, Korean pillows are quite unique and make great gifts. Traditionally, Koreans used pillows filled with buckwheat husks. They mold to everyone's specific head shape. It's a very different type of comfortable, and a totally unique gift 🙂 Find these at big supermarkets (i.e. E-mart, Homeplus, etc.) or get them at Namedaemun Market.
7. Cute Stuff – Korea has tons of cute stuff, ranging from stationary, tissue box cases, toothpick holders and other random goods that Korea tends to make cute. Check out out post on 40 Cute things to buy in Korea. To buy, we suggest checking out Sangsangmadang in Hongdae or at Daiso's all across Korea (see #16 & #17)
8. Glasses – Glasses might not be the easiest gift to give (fashion taste and prescriptions), but since it can be bought for cheap in Korea, it's still a great gift to give. Go to Namdaemun Market for the cheapest glasses.
9. Ginseng – Korean Ginseng has been world renowned since ancient times for its medicinal properties. People from all over the world come to Korea to find this magic root. And although it's probably one of the most expensive gifts you can get, it's definitely one of the most healthiest. Ginseng is a great gift to give Koreans who love living long healthy lives. This can be bought at supermarkets, Namedaemun Market among other places.
10. Fake Bags – Ever wanted that Louis Vuitton bag but couldn't afford it? Korea's got a black market that specializes in fake brand name bags. These fake bags are super high quality and can run in the hundreds of dollars (compared to thousands for real ones). Gift yourself by going to Itaewon.
→ Next Page