Best Hotels in Seoul
I remember when I took a trip to Taiwan. It was my first time there,
and I was excited for the street food, exploring old temples and hiking.
Too bad I had a deadline right before my flight.
I literally had zero preparation. I didn't even have a hotel booked.
Luckily for me, I had a local Taiwanese friend.
"Wow, what a life saver! "
She knew what I wanted to do in Taiwan, and she told where to book my hotel.
All within 5 minutes walking, I had the type of food and the enriching cultural experience that I wanted.
"The area & hotel were perfect"
Contrast with my trip to Thailand a few years ago.
I was at a dirty, old, run-down hotel that was far from everything.
While it was cheap, I would have gladly paid more to be closer to the beach, the temples, the nightlife... anything!
I had to walk at least 20 minutes to get to the city center.
And let's just say the bathroom probably needed a hazmat cleanup crew.
While I loved Thailand, the hotel really put a damper on my trip.
"Where you stay is a huge part of any trip. "
While I can't tell you much about Taiwan or Thailand, we can definitely be your local Seoul friend.
Here's a list of awesome places to stay in Seoul to help you get the most out of your trip.
---
Best Hotels in Seoul for Location
The hotels in the Myeongdong, City Hall and Gyeongbokgung areas are the best in terms of overall location. You can walk to some of the major attractions, and most of the other areas to visit are short subway or bus rides away. Some of the most famous restaurants are in the area, and there's tons of shopping and things to do as well. And even though the area is north of the river, you can access Gangnam (the south of the river) very easily with a 20 minute bus or subway ride.
Lotte Hotel Seoul
Lotte Hotel is probably the most conveniently located hotel in the city. It's connected to Lotte Department Stores, which has a supermarket and food court on the bottom floor and a duty free shop on the top. In addition, two royal palaces, Myeongdong, Insadong, Gwanghwamun, Namdaemun Market are all within 10 minutes walk. It's also connected to Line 2 (Euljiro-1-ga Station) which will let you access the rest of the city easily. Of course, it has all the amenities of a 5-star hotel (swimming pool, gym, room service, etc.).
---
The Plaza Seoul
The Plaza Hotel is a recently renovated hotel is right in front of Seoul's City Hall. The interior is sleek and sexy, and there are all the amenities of any 5 star hotel, with pool overlooking the city and gym. There's even a great view of Deoksugung Palace and City Hall from some of the windows. It's only a 2 minute walk away from City Hall Station (Line 1, 2), and it's also walkable to many of Seoul's most famous attractions, including Gyeongbokgung Palace, Deoksugung Palace, City Hall, Cheonggyecheon Stream, Insadong, Myeongdong, Namdaemun Market, etc. This hotel is located right in the heart of the city.
---
Shilla Stay Gwanghwamun
Located centrally among Gyeongbokgung palace, Insadong, Myeongdong, and Cheonggyecheon Stream, Shilla Stay Gwanghwamun has great décor, location and service at a reasonable budget. Come here for a meticulously clean hotel room, great facilities in one of the best locations in the city.
Best Hanok Stays in Seoul
Hanoks are traditional Korean architecture with designs that were carefully perfected over centuries. During the cold winter months, the homes were designed to be heated through a floor heating system (called ondol), which are perfect to sleep on top of on cold days. During the summer months, the rooms were traditionally designed to be breezy and cool without the use of air conditioning. If you want a unique stay while you're in Korea, this is a very unique experience you can't get anywhere else.
Note: For the traditional experience, most do not have beds, but instead have floor mattresses with heavy blankets. Also, many of the rooms are smaller.
Bibimbap Hanok Guesthouse, Ikseon-dong, Seoul
Bibimbap Hanok Guesthouse is in a cute neighborhood called Ikseon-dong which has tons of traditional hanok buildings, throwback vintage shops, and cafes with sky views.  It's also right in the middle of the city, so you'll have convenient and walkable access to some of Seoul's most famous attractions, restaurants, bars and shopping areas. Also, as the name suggests, this guesthouse is famous for its bibimbap breakfasts. The atmosphere is that of comfort, warmth and love, which will set the tone for your trip.
---
Hanok Guesthouse Nuha, Nuha-dong, Seoul
Our pick for best Hanok Guesthouse in Seoul is Hanok Guesthouse Nuha. It's located in a traditional neighborhood of Seoul (Nuha-dong), making it as authentic to the Hanok experience as you can get. The neighborhood has tons nooks and crannies to explore and find cute shops without the tourist crowds.
---
The Place Seoul Hanok Guesthouse
The Place Seoul Hanok Guesthouse is a sleek hanok with centuries old design. Inside you'll find modern amenities as well as traditional floor heating. The outdoor garden is unique in that most homes in Seoul don't have any space to call their own. Also, it's situated between two different royal palaces and in a part of Seoul where all the aristocrats used to live.
Ohbok Hanok Guesthouse
This is the best bang for your buck hanok guesthouse in Seoul. You'll get the same traditional Korean experience at a fraction of the cost of the other Hanok guesthouses. You'll also have a 3 minute walk to the center of the city, Gwanghwamun Square, starting at the entrance of the number one attraction in Seoul, Gyeongbokgung Palace. The neighborhood is sleepy, quiet and comfortable, setting the tone for your trip.
Best Luxury Hotels in Seoul
If you're coming to Korea for a honeymoon, babymoon, anniversary or any other special occasion, you may want to stay at some of the luxury hotels in Seoul. These luxury hotels have great views of the city and exclusive access to coveted spas and pools. Come here for the 5-star service and amazing facilities. They're the type of hotels that'll make local Koreans say "wow, you're staying there?"
Park Hyatt Seoul
Right in the heart of Gangnam, across from COEX mall, Park Hyatt Seoul has large floor to ceiling windows overlooking the Gangnam, supremely soft bedding, imported Myanmar oak and a literal stone-walled bathroom. The spa on the top floor is private, ultra exclusive and relaxing. The infinity pool is small but the hotel is never overcrowded anyway.
---
Shilla Seoul Hotel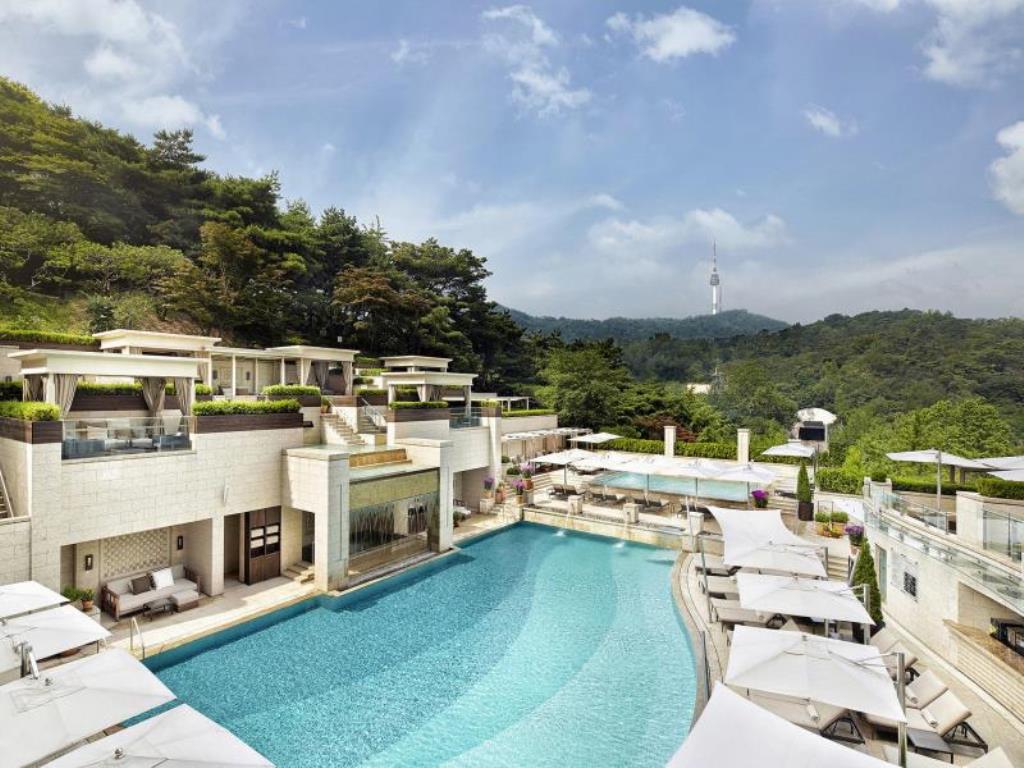 Shilla Seoul is literally on top of a hill in the center of the city. This gives you one of the most envied views of Seoul. On top of exclusive access and high-end service, the rooms are immaculately designed and there's also a famous duty free shop that Seoulites flock to for their luxury goods. The pool overseas the city.
---
Banyan Tree Club & Spa Seoul
Located on the other side of the same hill as Shilla Seoul, the Banyan Tree Club & Spa Seoul is known for its exclusivity. The spa is private and luxurious, the summer-time pool parties are invite only, and there are 180 degree panoramic views of the city found no where else. Of course the rooms are equipped with soft beddings and some even have relaxation pools that will give you a reason to stay in.
---
JW Marriott Dongdaemun
The newest luxury hotel in Seoul is an attraction in itself. The unique and beautifully designed rooms were built specifically to have magnificent views of the area. The swimming pool is the envy of Seoul residents, and the restaurants are where many local residents hold celebratory dinners. The hotel also has an central location across from all the malls, across from the centuries old Dongdaemun Gate. It's also a short walk away from Gwangjang Market, and on top of Dongdaemun Station (Line 1, 4).
---
Best Boutique Hotels in Seoul
If you plan on taking it easy during your stay in Seoul, a boutique hotel in Seoul may be your best option. The great design, comfortable beds and bathrooms will make you feel happy just to hang out in your room. Luckily, they're at a fraction of the cost of luxury hotels. There's a lot boutique hotels to choose from, but here's a few of the best boutique hotels in Seoul that we recommend even to our own family and friends.
Boree Hotel
If you're planning a lazy vacation in Seoul where you'll wake up without an alarm clock, head out for a late lunch, maybe do some shopping and then probably spend the rest of your day in your hotel room, you might want to find a nice boutique hotel in Seoul that'll make you feel great just by being there. Located 10 minutes away from Yeoksam Station, Boree Hotel isn't necessarily the best hotel in terms of location. However, there is something about the smiling staff and the simple white rooms that sets it apart from many other spaces. If you're looking for a splurge from an independent hotel in Seoul–Boree Hotel's Terrace with their king sized beds, private terrace and larger than life bathroom is a great option.
---
Glad Hotel
Glad Hotel is a stylish, clean and modern hotel with a central location. The hotel was renovated in 2014, so everything is still very new, and the room itself is perfect for those that want a comfortable stay. It's perfectly located with a 1-minute walk in front of Line 9 (National Assembly Station), a 5-minute walk to one of the most immaculately maintained parks in Seoul, and a 7-minute walk to the activity-filled Han River.
Click here to check rates.
---
Hotel La Casa
Casamia, the developers of Hotel La Casa, is actually a home furnishings company. So as you can expect, the hotel rooms are beautifully designed and furnished with smart and purposeful furniture. The hotel is located in the back alleys of Garosugil where you can find high-end restaurants, boutique shops and cute cafes. It's a 10 minute walk to Sinsa Station, but there are plenty of busses that will take you to every corner of the city.
---
Hotel Peyto
Hotel Peyto is a great stay if you don't want to stay at a luxury hotel or a guesthouse. The hotel itself is quite new, so the rooms are very clean, and all the amenities are new. The bathrooms are very sleek for those that enjoy a nice shower. It's right across from COEX mall, and in front of Samseong Station (Line 2), which will give you easy access to the rest of the city. Also, you just have to cross the street to get on the airport bus.
---
Best Guesthouses in Seoul
The whole idea of guesthouses is as if you were staying at a friend's house. Typically there's a common area where you can make friends with other travelers. Good guesthouses will have owners that are willing to offer their advice on things to see and do. Some will even hang out. The great thing is guesthouses are typically reasonably priced. Here's our picks for best guesthouses in Seoul.
Woo Guesthouse Jongno
This smartly designed guesthouse is located in a chic part of Seoul called Samcheongdong, which is famous for well-designed tea houses, cafes and restaurants. The guesthouse itself is located immediately next to Gyeongbokgung Palace, and has convenient and walkable access to Insadong. It's a modern guesthouse with just the right splash of traditional elements, such as design as well as the traditional Korean-heating system, ondol (floor heating). Also, you'll wake up to an unbeatable view of Gyeongbokgung Palace.
---
Naru Guesthouse
Naru Guesthouse fits the mold for a quiet and relaxed guesthouse stay. The rooms are sleek and the property is exceptionally comfortable, with large open-air windows, an outdoor balcony, airy high-ceilings as well as lots of sunlight indoors. This Hongdae guesthouse is also located in a quiet back alley of the main Hongdae area where you can head the street over to find great restaurants, cafes, bars and everything else Hongdae has to offer. Come here for comfort and relaxation.
---
Charim Guesthouse
Charim Guesthouse is consistently rated as one of the best guesthouses in Seoul. Located in Dongdaemun, this guesthouse is located in the fashion capital of Korea, next to all the discount and wholesale malls as well as the awesome Dongdaemun Design Plaza complex. The area is filled with famous old naengmyeon (cold noodle) restaurants as well. Stay here and you'll also have easy access to three subway lines at Dongdaemun History and Culture Park Station (Lines 2, 4, 5). Of course, like any good guesthouse, the hosts here are kind and extra helpful.
---
Best Hotels in Seoul for Nightlife
Seoul has some of the world's best nightlife, and it's usually pretty difficult to catch a cab at the nightlife hotspots late nights and on weekends. So you might want to book a hotel in Seoul that's close to some of the nightlife so you don't have to worry about waiting for cabs. The best places in Seoul for night life are in the following three areas: Hongdae, Itaewon and Gangnam. Here's our picks for best hotels in Seoul for nightlife in each area.
Best Hotel in Itaewon for Clubbing & Nightlife
Nightlife in Itaewon is for lounge and club hopping with lots of bars in-between. It's currently the hottest place in Seoul, with Koreans and foreigners alike mingling at every hour of the night. It's also located centrally in Seoul, so it's easy to travel to and from other areas of Seoul. Here's some of the best places to stay in Itaewon so you don't have to wait out in the rain for a cab on your night out.
Hamilton Hotel
Hamilton Hotel is literally in the center of Itaewon in front of Itaewon Station, so it's walkable to all the bars, clubs and lounges. The street immediately behind the hotel is where most of the shenanigans happen, and it's where Itaewon's most famous lounges and bars (i.e. Prost, Glam, Fountain, Owl, etc.) are. The hotel was recently renovated, so the room interiors are now sleek and sexy, and there's a rooftop pool that's famous for summer parties packed with muscles and bikinis.
---
IP Boutique Hotel
Like other boutique hotels, Imperial Palace Boutique Hotel has rooms that are chic, well-designed and clean. The hotel itself is located on the main Itaewon road, so you can walk to all the restaurants, bars and clubs with only a few minutes walk. In addition to the nightlife, IP Boutique sits at the border between Itaewon and Hannam-dong, which is famous for hidden speakeasy bars, fine dining and hip cafes.
---
G Guesthouse Itaewon
In addition to the friendly budget, the main reason G Guesthouse in Itaewon, Seoul so well regarded is because of its friendly owner Shrek, who often hangs out with his guests and is always looking out for them. Of course, a good guesthouse is run by  good people. It also doesn't hurt that the guesthouse is close to all the fun nightlife that Itaewon has to offer.
---
For a list of the best clubs, bars and lounges in Seoul, check out this page:
---
Best Hotel in Hongdae for Clubbing & Nightlife
Hongdae is more for free-spirited Korean youth who love bar and club hopping till the sun comes up. It's for those that enjoy youth culture and can run with a energy level fully charged. Since it's such a youthful area, the area also happens to have many guesthouses where young travelers like to come. Some of the guesthouses are great places to meet other people if you're on a solo trip. They're also inexpensive.  If you plan on wild nights on the cheap with local Koreans and other travelers, this is the place to be.
Nabi Hostel
Nabi Hostel has one of the best tradeoffs for rooms, price and location in Hongdae. Most accommodations in Hongdae are guesthouses with shared bathrooms and less privacy. Nabi Hostel comes at a great price for more privacy. It's also located across the street from where all the clubs are (approximately 10 minute walk), and also a 2 minute walk to one of the nicest neighborhoods in Seoul, Yeonnam-dong (outside exit 3). It's also a 1 minute walk to the subway station.
---
Hi Jun Guesthouse
Hi Jun Guesthouse is located right in the heart of all the excitement of Hongdae, Seoul's hub of art, subculture and nightlife. Step outside and you'll find shopping, restaurants, cafes, bars, clubs and everything else. And even though it's so close to the excitement, the walls are soundproofed so you can sleep easy. It's literally on top of one of Hongdae's original hidden bar before hidden bars were a thing, and it's a minute walk to the main clubbing strip. The location here is unbeatable.
---
Come INN Guesthouse
Come INN Guesthouse is the other place in Hongdae where the location can't be beat. It's right outside Hongdae's famous children's park where busking and drinking merrily with other strangers happen after the sun goes down. And all within a block radius there are two of Hongdae's mega clubs (Cocoon and Aura), several smaller clubs and countless bars and restaurants. It's in the thick of it all.
---
Best Hotel in Gangnam for Clubbing & Nightlife
Gangnam is where all of Seoul's mega clubs and high-end lounges are. It's the high-end nightlife that's made Seoul's nightlife scene so famous. If you're looking for high flying nightlife at the city's best bars, lounges and clubs, you'll probably want to stay in Gangnam. You'll have to take taxis regardless, since most of the hotels are not walkable, but they'll only be 5 to 10 minutes (as opposed to 30 or an hour from other parts of the city). 
Dormy Inn Garosugil
Dormy Inn Garosugil is designed like a luxury hotel at reasonable prices. Both the rooms and bathrooms are clean and sleek, and the location is one of the best in Seoul. It's located immediately outside of Sinsa Station (Line 3), and it's a short walk away from the main Garosugil shopping area. Walk one street behind, and you'll see famous restaurants, cafes and bars that are open till late at night. If you're going out for nightlife, it's located extremely close to clubs and is a short taxi ride to most of the mega clubs.
---
Hotel Cappuccino
Hotel Cappuccino is a popular hotel for those that want to spend their weekends at Seoul's mega clubs and high-end lounges, which are a short taxi ride away (some are even walkable). The rooms here are basically huge, kind size beds you can sprawl out on the next day to be extra lazy. The bathrooms are small but sleek. If you just want an extra comfortable room located close to all the fun in Gangnam, Hotel Cappuccino is perfect.
---
OCloud Hotel
Gangnam Station has a main road where all the big brand name stores are. The street behind is where all the bars, restaurants and clubs are. And Ocloud is located on that back street. Luckily, it's at the end of the street so it's not too crazy at night. Try to get one of the rooms higher up for a nice night view. The area is a major transportation hub, so transportation is great as well. Sinnonhyeon Station (line 9) is a 2 minute walk, Gangnam Station (Line 2, New Bundang Line) is 5 minutes away, and there are busses that go to every corner of the city as well as outer satellite cities. There's plenty of bars and restaurants in the area you can go before you head out to the lounges and clubs.
---
Best Serviced Apartments in Seoul
If you're coming for an extended stay on business, looking for a place to stay until you find a more permanent apartment or just need more space with your family, you may want to consider serviced apartments which are more spacious and more private than traditional hotel rooms. Of course, you'll have access to the swimming pools, gyms, business lounges and all the other hotel amenities.
Here's a few that are highly rated in Seoul:
The Classic 500 Executive Residence Pentaz
The Classic 500 is consistently considered one of the best serviced apartments in Seoul because of its high quality and ultra convenient location. It's located in the Konkuk University Area, which can be accessed by two different subway lines (Line 2, Line 7 — Konguk University Station) and numerous buses. There's also a large supermarket nearby, with a shopping center attached. It also has a swimming pool, gym, spa, sauna, indoor screen golf, and tons of other amenities.
---
Orkai Insadong Suites
Orakai Insadong Suites is perfect if you're coming with family or friends. The suites range anywhere from 1 bedroom to 4 bedrooms, and each have their own living rooms and kitchens as well. The location is ideally a block away from the main Insadong street, which will let you walk to old traditional tea houses, art galleries and restaurants set in traditional Korean buildings. It's also located between two royal palaces (Gyeonbokgung and Changdeokgung), and you'll have access to three subway lines (Line 1, 3, 5) at Jongno 3-Ga Station.
---
Residence Unicorn in Dongdaemun
Residence Unicorn in Dongdaemun has aspects of both serviced apartment and guesthouse. The serviced apartment side of Residence Unicorn in Dongdaemun has large and comfortable rooms (are a rarity in Seoul) that are perfect for families and groups of friends traveling together. The guesthouse side of this accommodation is the owner who makes you feel at home. The residence has access to two subway stations, Dongmyo Station (Line 5) and Sindang Station (Line 2). Also, the malls and Dongdaemun Design Plaza are accessible by a 10 minute walk.
---
Are you planning on staying in Korea for over a month?
You can find short-term housing in Korea! Click to get in touch!
---
Best Hotels by Area
If you'd like to really get into a neighborhood to really get deep in there and wander, discover and explore, check out our Seoul travel guides to learn about what's so amazing about these areas.