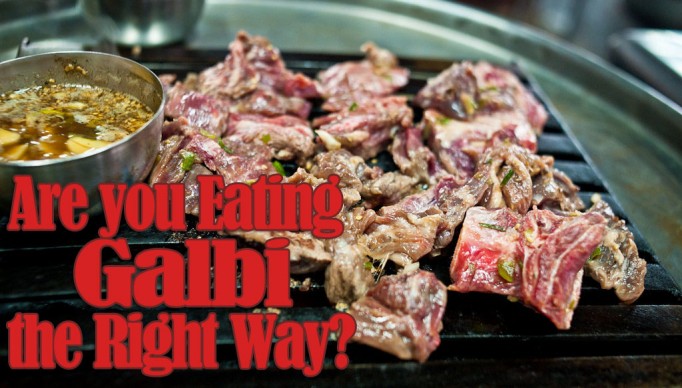 There's no PERFECT way to eat galbi, but there are certain things that nearly all Koreans do when eating Korean barbecue. Instead of just stuffing your face with beautiful slices of galbi, find out how you can eat galbi like the original gangsters!
(Pics courtesy of dustincolephotos.com! Check him out if you're looking for a Seoul-based photographer. Thanks, dude!)
Order Together
(Level: Absolute Beginner)
Korean food is inherently a communal activity, and no where is this more apparent than at Korean barbecue meals. There's one grill, so you'll have to share it. And it's just really selfish and unkorean if you have individual meat orders (see why here). If you order separately, it'll be difficult to stop staring at your friends juicy slices of boom boom, anyway. So just order a few orders of meat to share with your friends, eat and be really, really merry 🙂
Language Tip: Order with this:
1인분 (il-in bun) = 1 serving
2인분 (i-in bun) = 2 servings
3인분 (sam-in bun) = 3 servings
4인분 (sa-in bun) = 4 servings
5인분 (o-in bun) = 5 servings
Ordering Tip: Order less at first as you can always eat and decide if you want to order more later. You can order a few different types at first and decide what type of meats/cuts you like best. Then later when you're ready for more, order your favorites 🙂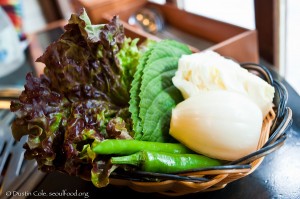 How to Wrap the Galbi
(Level: Beginner)
Korean barbecue always comes with greens [called sangchu (상추)], and they're meant for wrapping up nice little presents for your mouth. There's no "right" things to wrap in the greens as many Koreans will differ on how they wrap their little galbi packages: some only wrap galbi, some wrap meat with garlic/kimchi/rice, some double up on the leaves and some just eat the greens on their own (hey, don't hate!). But what's common among all Korean barbecue eaters is that they stuff the entire wrap in their mouths all at once. No one takes a bite halfway. That's just weird galbi manners. So just forget whatever manners you were taught about not stuffing your face with food. Just shove it all in, stop talking, and enjoy :).
Grill Kimchi & Garlic
(Level: Novice)
Note: More common for samgyupsal (pork).
Korean barbecue typically comes with garlic and kimchi. Some people aren't cool with raw garlic anti-Dracula breath (although most people are pretty cool with fresh kimchi), so restaurants will grill the garlic and/or kimchi along with the meat. But if the wait staff doesn't do it for you (not all will), just grill these two power sides by yourself. It just needs a flip before it burns (any black), and once they're nice and grilled, you can add it to your wraps. Take a few garlicy wraps, and Dracula will go all Jerry Maguire on you and say "you had me at hello" :).
Pro level tip: Ask for sesame oil (참기름 – chamgireum) to grill the garlic in. They'll put it in a tinfoil holder thingy full of sesame oil, "cooking" the garlic in oil instead of simply grilling it.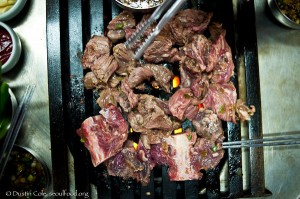 How to Grill Korean BBQ
(Level: Grill Master)
Usually, one person ends up manning the grill. It's not a rule, but it usually just ends up that one person does it. It is a lot of work, but to be an awesome co-eater, take over for your friend so he/she can eat. And if you are going to take over, leave the meat in the middle to cook; that's where the meat cooks the most (duh!). And not everyone grills it the same, but personally, your homie Keith likes to do a single flip to keep juice loss to a minimum :). And of course everyone likes meats with no burnt black. If there is any burnage, you can always cut the burnt pieces off with scissors. When you have the perfectly finished pieces of meat, place them on the edges of the grill. It'll stay warm, but won't cook. Also, if you want to be awesome grill master, put the finished pieces of meat directly on your co-eater's plates so that they can eat asap. That's ultimate grill master manners!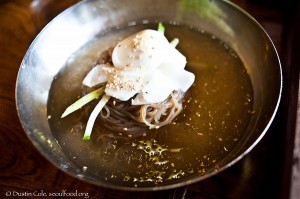 Order Naengmyeon or Dwenjangjjigae
(Level: True Korean)
Naengmyeon = cold buckwheat noodles
Doenjangjjigae = soy bean paste stew
You might think you're full after eating like a slob (hey, we're not hating!). But most Koreans won't feel that a Korean galbi meal is complete without ordering these two dishes, naengmyeon or doenjangjjigae, at the end of their galbi meals. Even after Koreans get super full from eating all that galbi, a lot of Koreans joke that there's a separate stomach to eat naengmyeon or doenjangjjigae. This step is totally optional. But if you want to eat galbi like a true Korean, step into the world of sin with naengmyeon/doenjangjjigae gluttony.
Which of these do you follow? Which are hard to do? Write a comment! 😀
If you're looking for galbi restaurants in Seoul, check this out:
10 of Seoul's Most Famous and Popular Galbi Restaurants