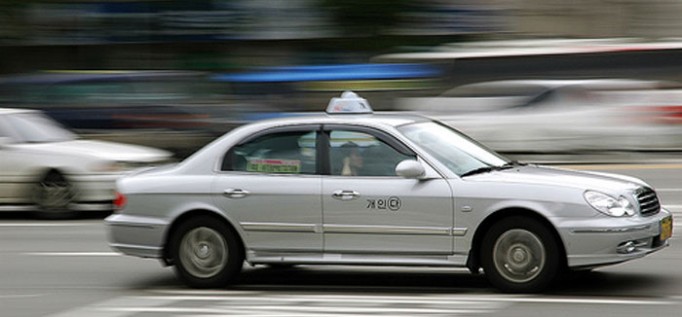 (click on images for sources)
Although the reputation of Korean taxis has been improving in recent years, there are still a few bad apples that try to swindle foreigners in Korea. Luckily, there are a number of preventive measures you can take to not get ripped off by Korean taxi drivers.
*Disclaimer – Korean taxi drivers are for the most part honest people making an honest living. Seoulistic.com does not label all Korean taxi drivers as cheats. But many foreigners experience problems in taxis, and these tips are designed to help foreigners in Korea have a more enjoyable time.
Use Naver Maps
For Visiting Korea or Living in Korea
One of the greatest resources is to use Naver Maps. Enter your starting point and your destination to see approximately how much a taxi fare will cost from one specific point to another. (See this post for a more detailed look on how to use Naver Maps to prevent being ripped off by Korean taxis.) Use this tool before you head out to know approximately how much you're supposed to pay.
Fake Confidence with your Korean
For Visiting Korea or Living in Korea
One of the ways some Korean taxis drivers pick their victims is to sense weakness. If the customer sounds like they are unsure of where they're going, they'll use this to their advantage. One of the easiest ways to prevent yourself from being another Korean taxi cab rip off victim is to fake confidence. Get into the cab and confidently tell the cabbie "Go to Myeongdong." Don't just say it, order the cabbie. In addition to being confident, having some decent Korean pronunciation helps tremendously with ensuring a fair taxi cab ride in Korea (read stories of what better Korean pronunciation can do for foreigners). Even if you're in the cab with a bunch of friends chatting away in English, Spanish, or Swahili, being confident from the very first moment you step in will give that Korean taxi driver second thoughts on ripping you off.
Language tip: '명동' 가 주세요 ("myeongdong" ga juseyo) – Please go to "Myeongdong."
Know the Roads
For Living in Korea
This is another great way to prevent any Korean taxis from taking unnecessary scenic routes that will cost you your hard earned cash. If you frequently take a cab from your favorite place in Itaewon to your apartment in Gangnam, pay attention to the roads and remember the fastest and cheapest way to get home. That way you'll be able to tell your Korean taxi driver the specific roads to take, and he'll know you're not messing around. The taxi driver may of course give his own suggestions on how to get to a certain destination, but if you tell them the exact route to take, it'll greatly reduce the chances of you getting ripped off by Korean cabbies.
Language Tip: 직진하세요 (jikjin haseyo) – go straight
우회전하세요 (uhoejeon haseyo) – turn right
자회전하세요 (jahoejeon haseyo) – turn left
Call a Cab Beforehand
For Visiting Korea or Living in Korea
Just like in many places in the world, you can call a taxi to wherever you are in Korea. These so-called 콜택시 (Call taxi) services are especially helpful if you have a lot of luggage or are on a street that doesn't have too many cabs. It's also really good for ensuring a fair price and rate for your trip to Seoul. The companies that perform this service generally don't have a reason to rip you off; the driver's getting paid the same, and they need to keep up a reputation. The only thing extra it will cost you is about 1,000 won for the direct pick up.
Tip: Visiting Korea? Get your hotel staff to call you a cab.
Take a Deluxe Taxi Cab (Black Cab) – 모범택시
For Visiting Korea
There are many different types of taxis in Korea (see CNNGo's complete guide to taxis), but any taxi that is a sleek, elegant black is what's called a 모범택시 (mobeomtaeksi). Literally translated, 모범택시 (mobeomtaeksi) means exemplary or model taxi, which all equates to better and more trustworthy service. If you value fairness, you'll have to pay a little extra for this so-called "luxury" service.
Tip: Luxury cabs are not as numerous as regular cabs. Flag one down if you see one, but many times, you'll have to call one to your door.
Write Down the Taxi Driver's Credentials
For Visiting Korea or Living in Korea
This is a last ditch effort for making sure you're not ripped off by Korean taxi drivers. By writing down the driver's credentials, you're basically sending a message that you'll be reporting them to the authorities, which could result in them losing their taxi license. When you do this, make sure the taxi driver sees you writing down his credentials. The purpose of this is to not actually report the driver but to make him know you're not messing around. Many times this leads to a change of heart and a more accurate fare.
Tip 1: Be careful to do this only when you're blatantly getting ripped off. Some Korean taxi cab drivers can get pretty heated when in an argument. (See "Other Preventative Measures" #2).
Language Tip: 신고 할 거에요 (shingo hal geoeyo) – I'm going to report you.
Other Preventative Measures
1. Make sure the meter is running.
2. Open the door sooner than later, so you don't literally get locked into an argument.
(See "Write Down the Taxi Driver's Credentials")
3. Pay the exact amount when possible. (Watch out for drivers switching bills).
4. Have a cellphone with you? Call 02-1330 (Korea's tourism hotline) when you're in a bind.
Note:
The Seoul government offers a hotline for those that want to report unfair taxi rides. Simply call '120' to report.