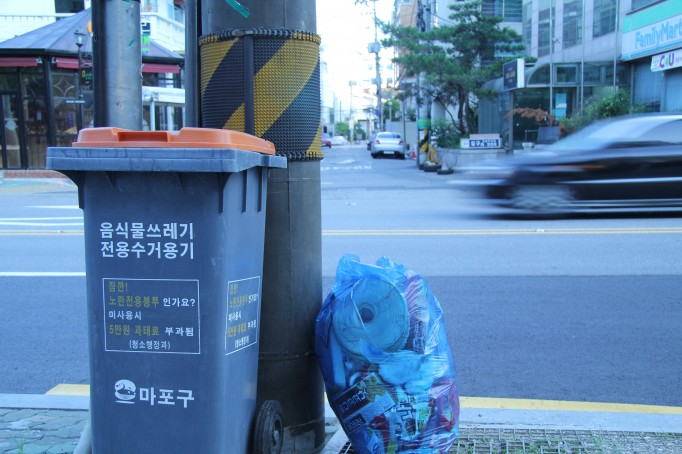 Throwing out the trash in Korea might be different than what you're used to back home, and there are certain rules that you should follow if you want to make sure you're doing things the right way in Korea. Make sure you read this post so you don't have any angry garbage men chasing you!
Living in Korea? You Must Recycle
If you live in Korea, you already know that Korea is pretty strict with its recycling policies. Korea is pretty specific with the kinds of trash it recycles: biodegradable waste, PET bottles, other plastics, batteries, bottles, and sometimes more. Recycling in Korea differs according to the processing of local governments. But know this: you will recycle… or else! If you leave your PET bottles in your "regular garbage" (일반 쓰레기) often enough, the garbage men might not pick up your trash next time. Or even worse, you might get a very angry warning by your building maintenance ajeoshi. (Advice: Run! ;))
Tip: Not sure how to separate your trash? Look at the labeling!
Save Your Leftovers
One of the best but smelliest things about throwing out garbage in Korea is the fact that they separate food waste. Anything biodegradable is collected separately, and the reason is supposedly very, very eco-friendly. Although it might sound gross, there are rumors that the food waste is fed to pigs in Korea. Not exactly clear if this is true or not. But either way, the fact that Korea is doing its part to save the world one kilogram of garbage at a time is pretty cool. It can at times stink up the house, and it's a bit of extra work if you're not used to separating your leftovers, but you'll do it for your good friend planet earth, won't you?? 😉
Tip: To prevent stinkage, try putting it in a container with a lid or try freezing your garbage (thanks, @Janna3000 for the tip!).

You Have to Pay for Garbage Bags
Instead of paying an extra tax to pay for garbage processing services in Korea, garbage men and processing centers are paid through the sale of garbage bags in Korea. There are different bags for the different kinds of garbage that you'll be separating (see 1st point above). Generally, garbage men in Korea will not collect your trash if its not in one of the special color coded garbage bags. And it might sound ridiculous to pay for garbage bags if you don't do it in your home country, but it's a good system that ensures you're actually following the rules. But you would do that anyway, right? 🙂
Tip 1: Each specific district in Seoul (i.e. Mapo-gu, Seocho-gu, etc.) have their own garbage bags. If you're moving in Korea, you can't use garbage bags from your old neighborhood.
Tip 2: These garbage bags can be found in convenience stores as well as local supermarkets.
Recycling at Restaurants and Cafes
If you're going to a restaurant or cafe in Seoul where you dispose of the trash yourself (think McDonalds or Starbucks), you might not be used to the system. Just as Korea is pretty strict with its recycling polices for homemade garbage, restaurants and cafes in Korea also ask you to recycle when throwing out the trash. This typically includes separating leftovers (both liquids and solids), plastics (i.e. straws, cups and lids), cups, and everything else. And although you probably won't get yelled at by an angry ajeoshi for not throwing out your trash properly, help out those hard working part timers and take the extra time to separate the trash. You will be officially awesome to Korea and planet Earth!
Tip 1: If there's someone close by the trash bin, just hand your tray to the worker. They'll usually take care of it for you.
Is throwing out the garbage the same in your country? Leave a comment!