Sure lattes and cappuccinos are nice. But Korea's added some extra fun to cafes with some really unique themes. Find out where you can pet dogs and cats, see Charlie Brown, play Jenga, go camping and even get your bike fixed!
Book/Study Cafe in Gangnam, Seoul
So you've got some homework to do, but your brother is watching wrestling super loud, your mom is yelling super loud and your dad is farting super loud. That's it, time to go to a cafe! But then everyone there is super loud too! Well… if you're in Korea, you can always head over to a study cafe. Many are run just like libraries (no chatting) and they might even be better because they got lots and lots of caffeine! So they're perfect places to fuel your sleepy eyes and give you enough peace and quiet to study.
Tip: Some book cafes in Korea are just regular cafes with books and people chatting, but many are on the quiet side.
Recommendation: May Island (메이아일랜드)
Address: 서울 강남구 역삼동 816-6 용일빌딩 4, 5층 (Seoul, Gangnam-gu, Yeoksam-dong 816-6, Yongin Bldg 4F & 5F)
Maps: Google
Closest Subway Station: Gangnam Station (Line 2), Sinnonhyeon Station (Line 9)
Blogs (for pics): omg0609 (Korean), 배추 (Korean)
Lego Cafe in Hongdae, Seoul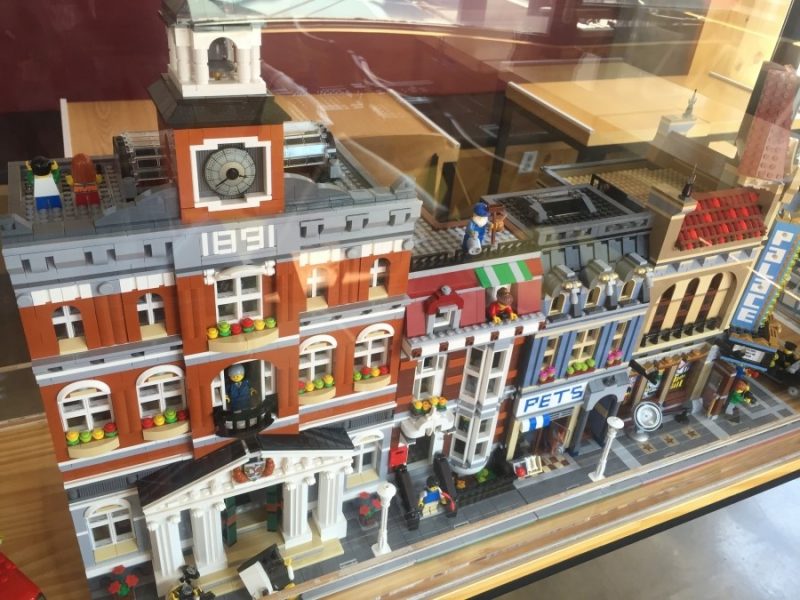 Legos aren't just for kids. Get & Show is a cafe where you can order a cappuccino and rent a few lego pieces to get you and a friend to give you something constructive to do (see what I did there? ;)). You can rent Lego kits for 4,500 won for 30 minutes, and each additional minute is charged at 150 won. If you stay for an hour to complete your Lego given task, it'll run you about 10,000 won. You can also get Lego themed chocolate and candy if you're more of a consumer than producer of Legos.
Address: 서울특별시 마포구 독막로3길 27 (Seoul, Mapo-gu, Dokmakro 3-gil 27)
Maps: Google
Closest Subway Station: Hapjeong Station (Line 2, Line 6)
Blogs: MyFatPocket (English), Riversnaillee (Korean)
Hello Kitty Cafe in Seoul
The Japanese-born character is so cute that Korea had to make its own cafe dedicated to Hello Kitty (either that or a multi-million dollar corporation, but who knows?!), and it's definitely one of the cutest places to sip on a latte in Korea. Make your way over here if you want cuteness overload with Hello Kitty decorations, cups, desserts and even Hello Kitty latte art. It is quite popular and it does get a bit crowded at times, but it's perfect for those in need of a little (aka A LOT) of pink in their lives ;).
Address (Click for maps): Hongdae Location (서울특별시 마포구 와우산로19길 18), Shinchon Location (서울시 서대문구 명물길 36-6), Incheon Airport (Near Departure Gate 24 – past customs). Samcheongdong location (서울시 종로구 삼청로 106).
See official website for more locations.
Closest Subway Stations: Hongdae University Station (Line 2), Shinchon Station (Line 2), Anguk Station (Line 3)
Blogs: MissTamChiek , Tumblr with Hello Kitty Cafe Pics
Photography Art Cafe Near Geondae University
There are tons of amateur and pro photographers in Korea as well as the rest of the world. It's so awesome that one cafe dedicated itself to photography art. Grab your cup of coffee and enjoy their photography art gallery, which changes themes every few weeks. Just like it's name, Sajin Chango (Picture Warehouse), the cafe is made with pieces of shipping containers to give it an industrial feel. Unsurprisingly, with little skill, if you take your own pictures inside, you'll come out with awesome looking pictures of your own.
Sajin Chango (Picture Warehouse)
Address: 서울특별시 성동구 성수이로7길 26 (Seoul, Seongdong-gu, Seongsu-2-ro 7-gil 26)
Map: Google
Closest Subway Station: Seongsu Station (Line 1)
Blogs (for pics): poet314 (Korean), hiya0217 (Korean)
Ring Making Cafe in Myeongdong
The newest theme cafes in Seoul focus on making your own rings. Couples, families, friends and travelers who want to create memories in a wearable way come here to make their own rings. Here, you can create your own rings from start to finish: cutting the metal, encircling it, sanding it, and even engraving it yourself with hammer and chisel (laser engravings are optional at a little extra). Of course since we're not all master metalsmiths, they'll guide you each step of the way. Unless you are a master metalsmith…then you can show them who's boss! 🙂
Recommendation: 설레임 (Seolleim)
Address: 서울특별시 중구 충무로2가 61-1 3층(Seoul, Jung-gu Chungmuro-2-ga 61-1 3rd Floor)
Maps: Google
Closest Subway Station: Myeongdong Station (Line 4)
Blogs (for pics): ksj910225 (Korean), spring1110 (Korean), lnr122 (Korean)
Next Page →