The Han River is one of the most beautiful things about Seoul. Luckily for you, there are 8 cafes located right on the bridges of the Han River where you can sip on latte and enjoy some of the more scenic parts of Seoul!
Cafe Nodeul (노들) and Cafe Rio (리오)
(Source)
Ever watch the Korean horror film 'The Host' ('괴물' – literally, "Monster") where a toxic monster starts tearing up Seoul along the Han River? If you were sitting down at Cafe Nodeul or Cafe Rio, you would have had the best seats in the house of monster carnage. These lighthouse shaped Han River cafes are located on the Han River Bridge and have great chic designs for the perfect date, complete with coffee, food and beer. Oh and to better set the mood, these places are scented with aromas like lilac, making the toxic monster viewing pleasure (or date… whatever :)) all the better!
Travel Tip: Head over to this cafe before or after hanging out at Ichon Hangang Park, a cool outdoor spot for hanging.
How to get there: Ichon Station (Line 4), Exit 4 – 10 minute walk.
Cloud Cafe (구름카페) and Sunset Cafe (노을카페)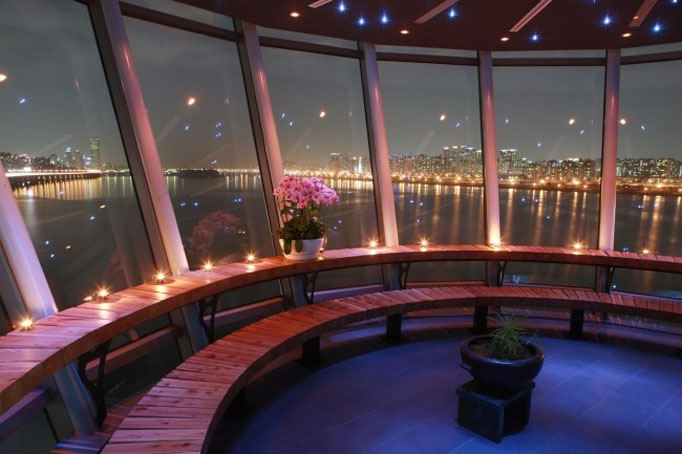 (Source)
These two cafes have the highest views of all the Han River cafes. They're located from the 3rd to 5th floors of the building, which also include an outdoor terrace where you and girl/boyfriend can do really played out Titanic poses. You should also come here if you want to take beautiful night photos like these awesome photographers as the views of Banpo Bridge (from Gureum Cafe) and N Seoul Tower (Noeul Cafe) are pretty awesome. These cafes can get pretty crowded (at night), so make sure you have enough batteries for a few games of Angry Birds :).
Note: This cafe may be the easiest/quickest to access via subway. Others have longer walks (from subway stations) or are more easily accessed by buses.
How to get there: Dongjak Station (Line 4), Exit 1 (for Gureum), Exit 2 (for Noeul) – 3 minute walk.


Hannam Saemal Cafe (한남새말카페) aka Rainbow
(Source)
This Han River cafe is for you bikers out there. If you're a fan of biking along the Han River (if you aren't, you should be :)), you can cruise along on a nice day and take a rest here where you can park your bike at the bottom and make your way up. Once up, you might be able to score a seat with a nice view of the Han River. There are also great views of Jamwon Han River Park, N Seoul Tower, Banpo Bridge and of course a nice skyline of Seoul. Here you can enjoy a nice latte, americano or even some their special makgeolli! But be careful not to drink (too much) and bike!
How to get there: Sinsa Station (Line 3), Exit 4. Nonhyeon Station (Line 7), Exit 6,7. Take buses for Cafe Rainbow (한남대교전망카페) – 140, 142, 144, 402, 407, 408, 420, 421, 470, 471, 472  or 3011.
Maruswimteo (마루쉼터) aka River View Spring Cafe
(Source)
This isn't just a cafe with a killer view of the Han River. It's also a cafe for all you ladies out there. It's run by the Seoul Foundation of Women and Family, which has information on programs like nail art classes, barista classes and even just job information for the unemployed. So helpful! But if you're just a passing Korea traveler, come here for the lattes and the great view of the Han River. It might be a good place to hang out if you're on your way to/from Lotte World.
How to get there: Jamsil Station (Line 2, 8), Exit 7. – 10 minute walk
Arittaum Seonyu (아리따움 선유) & Arttaum Yanghwa  (아리따움 양화)
(Source)
These two cafes are the bipolar twins of the Han River cafes. They're located on opposite sides of Yanghwa Bridge (양화대교) and also have contrasting themes of east and west. Cafe Arittaum Seonyu is on the west side of the bridge, and it has a "western" theme; Cafe Yanghwa is on the east side of the bridge, and it has a "eastern" theme. But on the real, the themes might not be the easiest to notice, so just pick the cafe with views of the stuff you want to see: Cafe Seonyu has views of Seonyudo Park, Seonsan Bridge and World Cup Fountain. Cafe Yanghwa has views of the National Assembly Building, Dangsan Bridge (for trains), and Yeouido. Oh yea, and awesome views of the Han River :).
Note: They have floor to ceiling glass windows, but they face the bridge it is on. There are large circular windows facing the river.
Travel Tip: These cafes are the closest to the Hongdae/Sinchon/Edae area if you're planning on hanging out nearby. Also check out Seonyu-do Park nearby; it's great for dates, picnics and napping on benches ;).
How to get there: Seonyudo Station (Line 9), Exit 3 – 15 minute walk.
Bonus: Riverview 8th Avenue (광진교 8번가)
Ok so this isn't a cafe, but we're including it here because its pretty awesome. Most of the Han River cafes on this list like to go upwards to give you the best view, but Riverview 8th Avenue goes down to take you closer to the actual river. And its uniqueness doesn't stop at it's location under the Gwangjin Bridge. It's a cultural center with live music performances (need reservations online – Korean only) as well as glass floor panels to see the river under your feet. It was also one of the filming locations for the Korean drama Iris. Live music right on the Han River and Korean drama awesomeness? Sounds like a great time doesn't it! 🙂
How to get there: Gwangnaru Station (Line 5), Exit 2 or Cheonho Station (Line 8), Exit 2 – 15 minute walk.
Also, check out our list of awesome Theme Cafes in Korea 🙂
15 Unique and Interesting Theme Cafes in Korea