5. Holidays Might mean Work (for Women)
Follow orders from bossy Korean aunts
Now that you're married to the love of your life, you'll probably be spending time with his family on the big national holidays. And the two big ones out of the year, Chuseok (추석) and Seollal (설날), are typically when families gather with their aunts, uncles, cousins and grandparents, the whole shebang with lots of people and lots of food. But in most Korean families, women are in the kitchen all day to prepare the food. If you're a woman that's married into a Korean man's family, don't worry too much. It's usually pretty fun to talk with the other ladies of the family while preparing the food. And even if you don't have any idea how to do anything, there's usually a bossy aunt in every family that takes over the kitchen like she's running an army.
Tip: For Koreans, a new female family member not helping out in the kitchen isn't always the best. So even if you're all thumbs when it comes to cooking, try to offer your help (if you're trying to get on their good side!).
6. New Years Mean Less Money
In exchange for hardcore bowing
Just like in many Asian countries, New Years in Korea (Seollal – 설날) is a time for little kids to receive cash envelopes from their elders to bring to school and compare with everyone how much they got. If you're Asian, you know how awesome it feels to have envelopes piling up in your back pocket. But for all you non-Asians out there that's never experienced counting that stash of New Years money in some corner when no one's looking, sorry to say that you'll only be counting the money you're giving out. That's because if you're married into a Korean family, that means you're part of the adult side. And even though you've never received money as child, you'll be expected to give money to your own kids, as well as your nieces and nephews. At least they give you a hardcore New Years bow in return.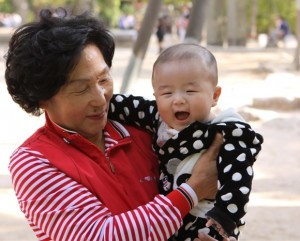 7. You Might Have to Live with Parents (Again)
Korean mama food
You thought it was over when you moved out didn't you? Well remember when your Korean in-laws paid for all your crazy wedding expenses that almost mortgaged the house? Well they're old and retired now. And for Korean families with more traditional values, many sons and/or daughters will invite their parents to live with them when they reach an elderly age. Although this is a changing trend in Korea, and many Korean families just tend to get the elderly parents their own home/apartment nearby (if they can afford it), if the Korean family that you married into has more traditional values, you might have to live with the in-laws for a while, which is not necessarily a bad thing. You'll get real Korean mama food and a someone to help take care of the kids, too :).
Special thanks to TalktoMeinKorean.com's Kyeongeun Choi for the help!
If you're going to a Korean wedding, here's the gifts you should give:
Korean Culture Says Buy These Gifts!