If you're coming to live in Korea, one of your goals might be to save some money. Meals, however, can take a big portion of your budget. Don't worry, Korea has tons of options for eating on the cheap. Here are 10 ways to eat in Korea for less than $5 USD a meal!
These tips are for the budget friendly newbie to Korea who is eating out. Hope you save a lot!
(Note: $5 USD = approximately 5,600 won)
Click images for sources (featured image source here)
1. Kimbap Restaurant
Kimbap restaurants are pretty much Korean fast food. They offer food that is cheap, fast and quick. But where kimbap restaurants differentiate themselves from McDonalds in Korea is their menu. Kimbap restaurants sell so much variety, from kimbap (of course), ramyeon noodles, bibimbap, fried dumplings, kimchi jjigae and a whole lot more. And of course, many of the items on the menus of kimbap restaurants can be had for less than 5,500 won. Variety and cheap = bomb.
2. The Average Korean Restaurant
The average Korean restaurant in Korea will have something on the menu that can be had for less than 5,5000 won. Even galbi restaurants, where galbi can get expensive, will almost definitely have dwenjang jjigae (된장찌개) for a very affordable price of around 5,000 won. Sundae (blood sausage) restaurants will have expensive sundae dishes, but will also have single serving options such as sundaeguk (blood sausage soup) for cheap as well. Most Korean restaurants will have affordable options for those budget conscious.
3. Convenience Stores
Convenience stores are found everywhere in Korea, and this is good for hungry people in a rush. You can find triangle kimbap for less than 1,000 won; instant ramyeon noodles for around 1,000 won; sandwiches for less than 2,000 won; and for the really hungry folks, a whole doshirak (lunch box) meal complete with rice, side dishes, and main course. Perfect for those in a rush or maybe even culinarily-challenged bachelors 🙂
4. Take Out Pizza
Pizza can be quite expensive in Korea. Pies from Domino's, Papa John's and Pizza Hut can go upwards of 30,000 won. But look for small local take-out pizza shops like Pizza School. These student favorite pizza joints will sell entire pizza pies for as cheap as 5,000 won, and they're big enough to feed 2-3 people as well. At 5,000 won a pie, this might become a local favorite if you're going to live in Korea on a budget.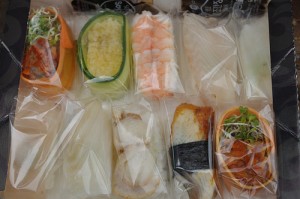 5. Supermarket Sushi
This might be tastiest and healthiest of these cheap eats in Korea. If you head over to mega supermarkets like E-Mart or Home Plus, there are usually sushi corners that let you pick and choose pieces of sushi for as low as 500 won a piece. Get 10 pieces for a decently healthy meal. Oishi!
6. Bakeries
Korean bakeries offer more than just bread. Bakeries in Korea usually have bread fashioned into a semi-meal with slices of ham, corn, and other toppings or fillings. All these can typically be had for less than 1,000 won a piece. If you're not into corn on bread, many bakeries like Paris Baguette or Tous les Jours have sandwiches for less than 5,000 won. Couple that up with a carton of milk for 1,000 won, and you got yourself a meal!


7. Bunshik (Street Food)
One of the simplest meals that can be found anywhere in Korea is bunshik, Korean street food. These Korean street food trucks can be found pretty much in any city in Korea, and for the most part they sell the same things. Get an order of tteokbokki (spicy rice cakes), twigim (fried snacks) and an odeng (fish cake) all for less than 5,500 won. Portions are decent enough to feed two!
8. Supermarket Sampling [free]
Large scale supermarkets in Korea are famous for their many sampling stations. Walk around the entire floor of a Korean supermarket once, and you'll have the chance to sample dumplings, seafood soup, udon noodles, samgyupsal, curry, and everything else in one go. It might not be enough to fill you up, but really… are you going to argue with free? 😉
9. Doshirak (lunch boxes) Take Out
Doshirak are lunch boxes, and some places in Korea specialize in only selling these super cheap, very delicious doshirak sets. Pop into a place like Hansot Doshirak (한솥도시락) for tons of Korean food options all for very cheap prices, many under 5,500 won. Super convenient, super cheap, but best of all, super Korean!
10. Microwavable Foods
Korea has a number of options for microwavable foods that are of course super quick and convenient that can be had at home anytime. This is the perfect option for those who don't like cooking and want to eat as fast as possible. Go to the supermarket and stock up on spicy octopus (낙지볶음), instant curry, meatballs, and even spaghetti. A perfectly budget friendly food for those looking to save money in Korea.
---
Which one do you want try the most? 😀