(Click images for sources)
Even for people that have been living in Korea for many years still have a hard time finding spots for dates. Well, good spots at least. Luckily, Korea has a bunch of romantic and exciting places for dating that offer great food, refreshing drinks, and many activities. There are a countless number of options for date spots in Korea, and Seoulistic has racked up 25 great hot spots for you love birds out there! (single people can enjoy too ;))
1.) Sky Rose Garden (하늘 로즈 가든)
"A Beautiful Rose Garden"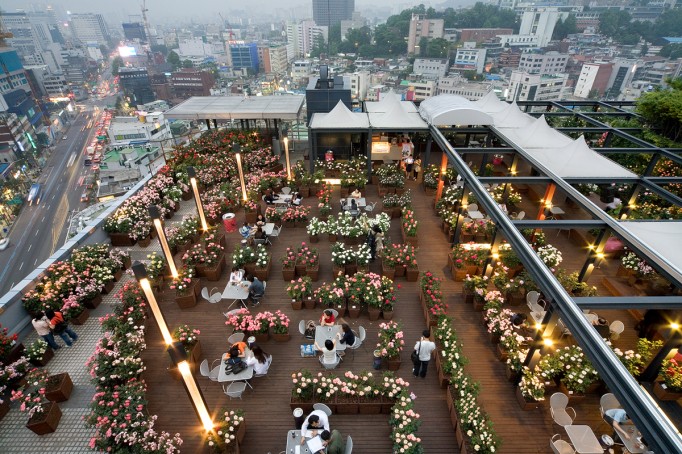 "Roses are red, violets are blue, you don't have a place to go? Well Seoulistic has a place just for you!"
You will hit the jackpot  for sure by showing off your loved one this sweet date spot! In fact, you can hit two birds with one stone because this garden lies on top of a movie theater – but not just any movie theater! The "Sky Rose Garden" is located on the 8th floor of the Daehan Cinema (대한극장), one of the first movie theaters of Korea. So once you finish watching a movie and get on the elevator, don't press the 1st floor! Hit the 8th floor and head up to the majestic Sky Rose Garden! Visitors can check out the many types of roses that the Sky Rose Garden has to offer. Also, the roses are switched weekly during the summer months, which provides a change of scenery each time for recurring visitors that come back. We recommend you check out this place during the evening, just when the sun is about to set. This place is 100% Seoulistic certified romantic!
Location: Chungmuro Station (충무로역) via line 3. Exit 2 (right in front of exit 2).
2.) Bungee Jumping 
"Leap of Faith"
Does your dating life need more excitement? Go bungee jumping in Korea! In Korea, extreme sports such as scuba diving, rock climbing, and sky diving all exist; however, bungee jumping is the most accessible and least dangerous out of all of these listed. It can be a great date activity for you and your loved one. This place lies in the heart of Yuldong Park, which is just 20 minutes outside of Seoul. If you're courageous enough to go bungee jumping, this is your opportunity. Once you are all geared up, you take a few steps towards the jumping platform with instructions. One (for the bass), two (for the treble), and three (get ready) – and jump! (Ahhhhhhhhhhhhhhhhhhhh!)
Location: Gyeonggi-do, Seongnam-si, Bundang-gu Yul-dong
Seohyeon Station (Bundang Subway Line), Exit 2.
Take Bus 15 or 15-1, and get off at Jangan Middle School.
Walk 700m forward to arrive at Yuldong Park.


3.) Namsangol Traditional Folk Village
"For the History Buffs"
This place has been a protected village since the time it was built. The site shows an extraordinary diversity of Joseon-type homes. You have the chance to build different potteries, handcrafts, and experience playing traditional Korean instruments. Also, you can get married here the traditional Korean way – if you have time 😛
Location: Jung-gu (중구 필동2가 84-1);
Subway: Chungmuro (Lines 3 and 4)
4.) Jamsil Baseball Stadium
"Take me out to the ball game"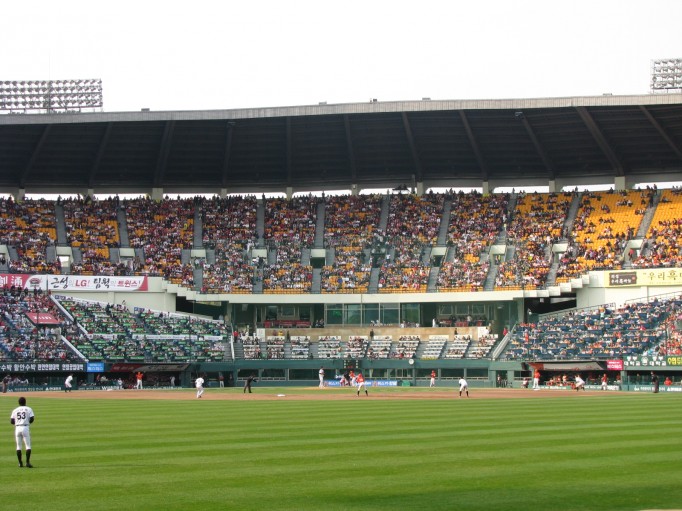 Baseball season in Korea is from April to November, so you will have many opportunities to watch a great baseball game in Korea. This place is full of excitement and is loud (very loud!) – this will sure cover up any awkward silences in your date in Korea. While you watch the game, grab a beer to loosen things up and buy a hotdog from the many vendors in the area. It's a great place to go for a date if you like to just sit, relax, and watch a game with your date. Also, they have "kiss-cams" for an awesome way to top off your date (or super awkward for first dates :)).
Location: Seoul Subway Line 2, Sports Complex Station, Exit #6, #7
5.) Ice Skating 
"Lottle World Ice Rink"
Who doesn't like ice skating? If you want to skate like Kim Yuna, this is a great place to practice, For the rest of us, it's great for some fun leisure time with your date! It is located in the heart of Lottle World, an amusement park in Seoul, Jamsil. A great time would be to do this in the morning since a lot of people come to this place every day. It's even busier during the holidays.
Location: 40-1 Jamsil-dong, Songpa-gu, Seoul
Subway: Jamsil Station (Seoul Subway Line 2 & 8), Exit 4 – This place is directly connected with the station.
6.) Seoul Arts Center (예술의전당)
"Musical performances, art galleries, anything art related"
Do you like watching classical piano recitals, operas, or even just looking at photos and paintings? Seoul Arts Center is packed with four opera houses, a recital hall which holds violin, piano, and other musical instrument recitals, an art museum, outdoor performance stage, and even a music fountain that plays music. A perfect place for a date in Seoul for the refined.
Location: Subway Line 2, Seocho Station, Exit 3
Green (local line) Bus No. 11 (takes about 5~10 minutes)
7.) Seoul Zoo
In addition to being one of the best places to go on a date, the Seoul Zoo is also one of the biggest zoos in the world. This place features 3,400 animals and over 360 different species of animals. Also, the place features over 20,000 different specifies of roses! Great place if you want to get to exhibit wild life with your date. Don't get too wild though 😉
Location: Get off at Seoul Grand Park Station (Seoul Subway Line 4), Exit #2
8.) Ssamziegil (쌈지길) 
"Traditional Korea"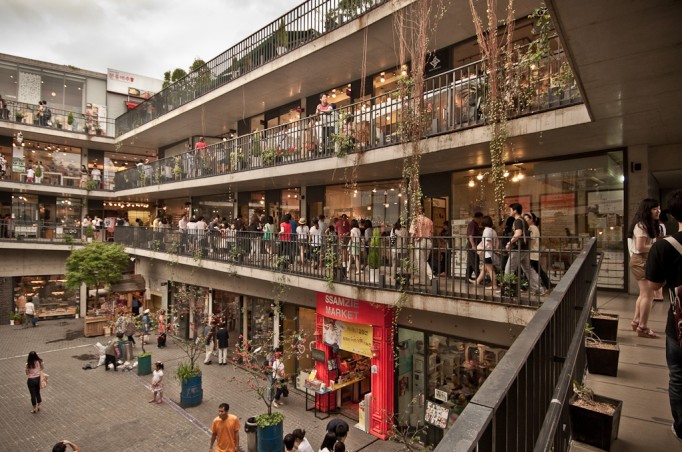 Ssamziegil (쌈지길) is a cultural complex situated in the middle of Insadong, the center for traditional Korean culture in Seoul. It features many small little shops and cafes. For window shoppers, it will be impossible for you to leave the place without buying anything culture related to Korea! This unique area was designed in such a way by connecting its charming alleys in the form of a spiral-like stairway. A great place for you and your date to do some good cultural exploring 🙂
Location: Anguk Station, Seoul Subway line 3, Exit #6 (towards Jongno Police Station); enter the Insa-dong one-way street of Crown Bakery & GS25, and go staright 100m
9.) Seoul Olympic Park (올림픽 공원)
"The place where the 1988 Olympics were held"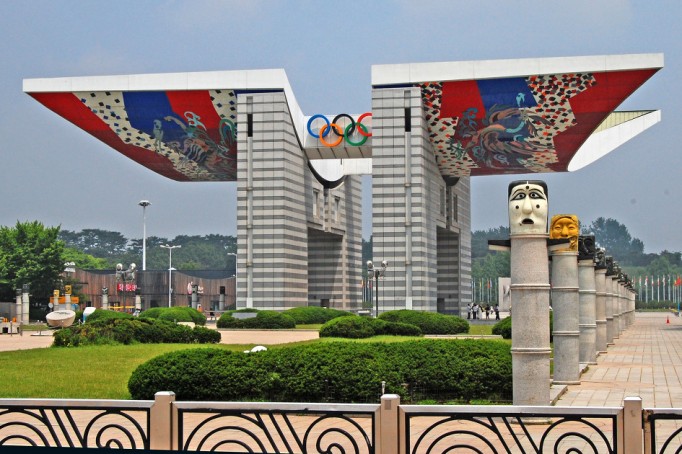 Olympic Park is situated on the east side of Seoul and was the place where the 1988 Olympics were held. Also, it's a humongous park of romance! You and your date will surely have sore feet by the end of your tour around the park. You can also rent bikes from vendors. If you are in Seoul, you might notice that there is not much greenery in the city; so sack your lunch and head on over to this park!
Location: Get off at Mongchontoseong Station (몽촌토성) – line 8, exit 1.
10.) Times Square Korea
"Shopping date"
Even if you and your date don't like shopping, you must still check out this place. Times Square, situated in Yeondeungpo, Seoul, is a huge complex that includes various leisure, entertainment, and dining facilities. It also features one of the largest movie screens in the world! Make sure you don't make a bad impression by sitting all the way in the front. Your date might puke!
Location: Yeongdeungpo Station (Seoul Subway Line 1) > Leave the station through the Lotte Department Store > Cross the intersection, and continue to walk for about 200 meters > Turn left, and you will see Times Square.
11.) Seoul Forest
"An urban escape"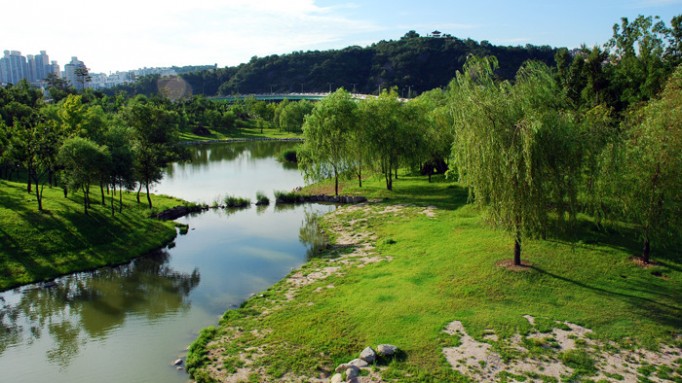 This park was opened in 2005 and features a scenery of absolute beauty. With the growing number of buildings in Seoul, one can feel trapped and confined inside the city. That's what makes Seoul Forest such a welcome breath of fresh air. You and your date can walk around the featured five parks and escape the commercial realities of life for one moment.
Location: Seoul Forest Station (Subway Bundang Line), Exit 3. (5min-walk)
12.) Coex Aquarium
"Take a dive into the sea"
If you hate scuba diving but still love beautiful sea life, make sure you and your date check out the Coex Aquarium. This aquarium features 90 exhibition water tanks and has about about 600 species and 40,000 different oceanic fishes. The tanks are divided into different sections (there are six of them) and are viewed in a tunnel like atmosphere.
Location: Exit 5 and 6 of Samseong station (Seoul Subway Line 2) are connected to COEX MALL. At the end of Ocean Walk is the Aquarium.
13.) Ssamziegil Underground Workshop
"Experience first hand on making pottery, crafts, and different candles."
Remember no. 8 on the list,  Ssamziegil? Well, like we mentioned, there are many hidden alleyways and cafes in Insadong. If you look hard enough, you will find the Ssamziegil underground workshop. You and your date can learn how to design different Korean crafts like cups and dishes, rings, and cell phone accessories. You can also make hanji (Korean paper) crafts like jewel boxes and paper lamps. You can then customize these with whatever drawings you would like on them, such as your lover's name!
Location: Anguk Station, Seoul Subway line 3, Exit #6 (towards Jongno Police Station); enter the Insa-dong one-way street of Crown Bakery & GS25, and go staright 100m. Once you see the big sign, take an immediate left and go down the stairs.
↓Click for the next page! ↓