Of course if your best friend is from the good ol' Dae Han Min Guk (Korea), that means you're chummy enough to talk about your sexy time escapades. But if you're so close to all your Korean friends, you might want to know why sex, drugs and politics aren't the best conversation topics.
Featured Posts
Korea loves its coffee, no doubt about it. That's why in several popular areas there are streets called Cafe Streets (카페러기), which is dedicated to just caffeine. There are cafe after cafe all with good coffee, eats and ambiance. Find out where to go to find these awesome cafe streets in Seoul!
Whether you like it or not you'll be using money pretty much everyday in Korea. And since cash rules, you should know the basic Korean etiquette and manners regarding money. Read this to make sure you avoid being rude in Korea!
Korean BBQ is one of the most famous Korean foods out there. On top of being super delicious, it's also a lot of fun to eat with a BBQ pit in front of you. But if you don't have a Korean friend to show you how it's done right, follow this guide to make sure you're eating galbi the right way!
Koreans really, really like flashmobs. It seems like you can see one every weekend in Seoul at any given moment. And that's really awesome for us! Take a few minutes break from studying and have a blast by watching these super fun Korean flash mobs!
You know how holding the door open for someone isn't a rule, but is something nice you can do? Well just like holding the door open, we've found a few extra things you can do when eating. And by the end of your meal, you'll be impressing with these Korean etiquette extras!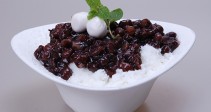 Patbingsu is a favorite food for those sweating out the heat during the summer in Korea. It has that sweet, but not too sweat, red bean that Koreans love to put on their desert dishes, shaved ice to cool you down, and lots of other awesome goodies. Read on to see how you can beat the heat in Korea with these awesome patbingsu restaurants in Seoul!