August Events & Festivals in Seoul
The summer festivals in Korea are coming to a close. With the high summer heat in effect, there's plenty of festivals that'll cool you down, and plenty of events going on in the late evenings to help you cool down from the daytime sun. Get out, get wet and dirty, and have some fun!
August 4th & August 6th
The world famous Comic Con has come to Seoul for Cosplay nerds and Overwatch geeks to fan craze over cool new toys, games and animations. It's the one place you should come in a costume, or you'll be the outcast!
August 11th – 12th (6PM – 5AM)
Seoul is really a haven for night owls who start getting into their prime when the sun goes down. Seoul Culture Night celebrates late night shenanigans with cultural performances, movies and markets. You can even camp out in the urban jungle.
Aug 5th
Not all flower festivals are in the spring. The lotus flower festival in Seoul highlights the sacred Lotus Flower in Buddhist culture at Bongwonsa Temple. It's a beautiful day to walk and smell the flowers.
August 11th to August 13th
This huge slide is setup in the middle of the city to cool us down from the August heat. Grab a tube and slide your way back to your childhood in the middle of the Seoul.
? *UPDATE: EVENT CANCELED* ?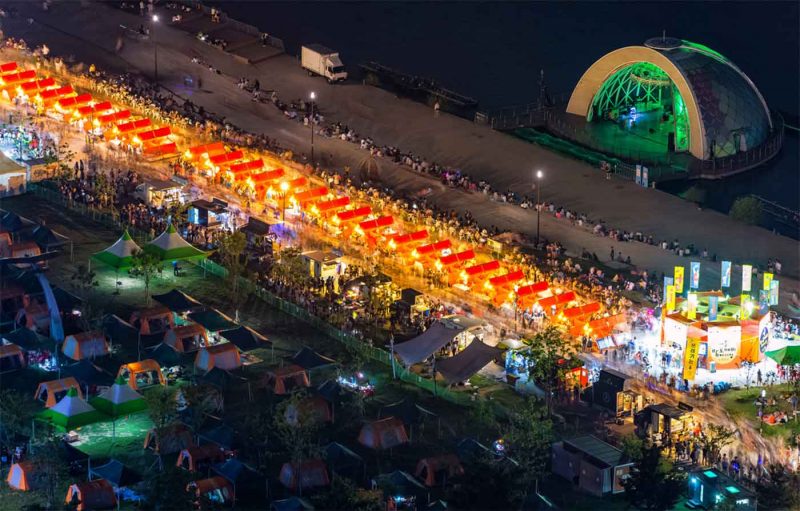 August 11th – August 13th
Get enough of a running start, and you might slide your way from the Slide the City right into the Global Food Festival in Seoul. Here you can cool down with great craft beers and the hottest food trucks in Seoul while listening to some live music. This is what summer's all about!
July 21st to August 20th
And while you're at the Global Food Festival, why not catch a movie a bit upstream. The Han River Festival runs until the end of the month with plenty of activities and things to do along the biggest river in Seoul.
July Events & Festivals Outside Seoul
August 1st – August 6th
The Busan Sea Festival has everything you'd expect from an awesome summer festival: musical performances, water gun fights, friendly people and good food. Of course, it's right by the sea, so you can jump in whenever you feel too hot!

August 11th – August 13th
One of the last major music festivals in Korea is the Incheon Pentaport Rock Festival. Like any good festival, it's outdoors, and you can even camp out on the festival grounds like it's the Summer of 69. Rock out and have some fun in the waning summer days.
August 11th – August 13th
The Busan International Rock Festival is a rarity in the music festival scene in that it is FREE. Featuring local indie rock music bands, you'll get to rock out with local Koreans on a big stage down in beautiful Busan.
August 24th – August 27th
Who would want to stomp on a bunch of grapes? That's just one of the few activities you can do at the Yeongdong Grape Festival. While it's a bit of a trek if you're in Seoul, it's worth a family trip to get away into nature and have fun delicious fun!